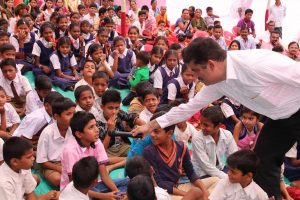 Canon India celebrated the first anniversary of adoption of Karanjoti Village at Thane district in Mumbai, Maharashtra, recently. This is yet another milestone in Canon India's flagship programme 'Adopt a Village'.
Canon India has so far adopted 4 villages in the country; Ferozepur Namak in Haryana, Maharaja Katte in Bangalore, Karanjoti in Maharashtra and Sol Gohalia in Kolkata to support the village with better education facilities, sustainable environment, health and hygiene along with complete eye care facilities.
Nearly a year back, Canon India adopted Karanjoti village to redefine the lives of people in and around the village by providing them with facilities for a well-developed and sustainable living.
Karanjoti Village has seen numerous noteworthy developments, since its adoption by Canon India. To mention a few, capacity building in the school has led to students returning to the village school to enjoy better classroom infrastructure, clean drinking water supply, a resource centre with a non-formal education teacher to impart computer literacy, art and craft skills and encouraging sports among the students of all grades along with a vision centre for better eye care services.
Speaking about Canon's efforts in this direction Kazutada Kobayashi, President & CEO, Canon India, said, "Adopt a Village initiative is our way to ignite the passion to live a healthy informed life. Our vision of develop the communities around us has brought us a long way. The anniversary celebration at Karanjoti village stands testimony to our efforts and accomplishments in the communities we serve. As we come by a year, it is truly overwhelming and satisfying to see the outcomes of our various endeavours."
Tags: Canon India Karanjoti Village at Thane district