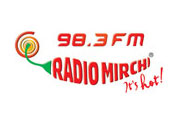 Radio Mirchi, India's leading radio brand, launched its second radio channel in Bangalore. This new brand, Mirchi 95, will be aired on the frequency 95.0 FM and offerlatest Bollywood music to its listeners. Radio Mirchi has been offering Kannada music to Bangaloreans from its first frequency – 98.3 FM – for the last 10 years.
Excited with this new station launch, Tapas Sen, CPO, Radio Mirchi, said "Mirchi is a sunshine brand, loved for its right dose of positivity & humour, and Mirchi 95 will be no exception! We have curated this product very carefully – importing the secret sauce of our winning programming from other HSMs and enriching it with local flavours and nuances! We are sure that it will strike a chord with the young cosmopolitan listeners of the city."
The drive-time shows Whassup Bangalore (7-11am) & Breaking music @ 95 (4-9pm) will offer latest Bollywood chartbusters, while the afternoon show Mast Melodies (11am–4pm) will belt out contemporary melodious numbers. The night show Dil Chahta Hai (9pm-12 am) is a one of a kind romantic radio show.  The girl on the motorbike, RJ Nithya is the Pataka Guddi, who rides all over the city & connects with people all over Bangalore.
To complement this vibrant product, Mirchi 95 have got on board some super-enthusiastic smart jocks. While the morning show host RJ Amar is a fitness freak, the afternoon show host RJ Ridhi is in true-sense a drama queen! It is not for no reason that, RJ Arpith, the irreverent host of the evening show, is nicknamed by his peers as the Robinhood of Radio! And RJ Bharat is already popular among his fellow mates for his quirky tips on relationship issues!
Radio Mirchi has also introduced a new jingle for Mirchi 95. Composed by the celebrated music duo, Sachin-Jigar, this hummable jingle captures the essence of the brand's positioning – Mirchi Sunnewale Always Khush! Sachin Jigar has composed super-hit numbers for movies like ABCD 2, Badlapur, Go Goa Gone, Shudh Desi Romance, Humpty Sharma Ki Dulhaniya, Entertainment and many more.
Speaking on the launch of Mirchi 95 FM, Prashant Panday, CEO, Radio Mirchi, said "With launch of Mirchi 95, we will provide the most robust radio coverage in Bangalore. Whenever a client is planning to reach out to the entire city, a mix of 98.3 FM & 95 FM will help them cover the city in the most effective manner. We are launching an extensive outdoor and print campaign to popularize Mirchi 95, which will be followed by a series of BTL activations. With such an interesting product offering and aggressive marketing push, we are hopeful that we shall soon be Bangalore's favourite destination for Hindi music."
Mirchi 95 has also associated with an upcoming concert by the Bollywood heartthrobArijit Singh. Lucky listeners will get to win free concert tickets, and a few of them will even get to meet Arijit Singh for a meet-n-greet. The event will be hosted by a Mirchi 95 jock.
There are some surprises lined up at the venue as well, with Mirchi 95 expected to launch the official video of the new Sachin-Jigar jingle!
During the Phase 3 FM radio auctions held by I&B Ministry last year, Radio Mirchi acquired 2nd frequencies in 9 important markets – Hyderabad, Ahmedabad, Surat, Pune, Nagpur, Lucknow, Kanpur, Jaipur and Bangalore. This is the first roll-out of its 2nd frequency network; other stations will be rolled out in the next few months. With the hottest radio brand expanding its footprint, the mercury is only set to soar higher this summer!
Tags: new jingle for Mirchi 95 Radio Mirchi