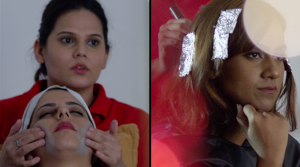 As the cricket frenzy catches the nation by storm Housejoy, the leader in home services category in India, releases a video on cricket that show both men and women watching cricket.
The difference is that they show women enjoying cricket in their own style! In the ad, women are seen enjoying beauty services at their home while watching cricket.
The film has been directed by Saad Khan, founder and creative head of Centerstage. He is Bollywood and Hollywood Director.
Nikhil Kumar, Head of Marketing-Housejoy says, "Being the leader in beauty services at home, we have received many requests this season. Women love to order our beauty services and get pampered at home while watching cricket with friends/family. Strangely this insight has never been showcased on any cricket ad or spots who mainly reflect it as a game only viewed or enjoyed by men of all ages across the country. Since IPL is the flavour of the season, we decided to feature this unique consumer insight in this video."
Talking about the film, Saad Khan Creative Director at Centrestage says, "Women enjoying cricket hasn't been depicted before and with this film we really wanted to celebrate women. We have tried to bring an emotional aspect to the film and show the love of cricket from the nation. It was great to work with these lovely bunch of ladies who really know how to have fun."
Credits
Creative Agency: Centrestage
Director: Saad Khan
Script Writer:  Ajay Bhaskar
Script Supervisor: Centerstage
Tags: Centrestage Housejoy