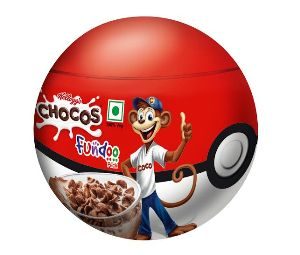 After successfully launching a extensive consumer products business for Pokémon covering apparel, toys, back to school, stationery, games and puzzles, Pokémon is all set to sweep the FMCG space with product associations.
The first of the block is Kellogg's Chocos breakfast cereals. Dream Theatre, the licensing agency for Pokémon in India and South Asia has tied up with Kellogg's Chocos for a Pokémon promotion across variants and exciting co-branded giveaways.
The promotion is in stores now multiple premiums. The 300 gms pack offers 3 D cards for kids to put Pokémon figures together, the 125 gms packs have 5 Pokémon index cards, 125 gms pack offer 1 index card and the Fundoo Ball pack has the most exciting premium – mini Pokémon figurines! The idea is for kids to have endless hours of play with multiple Pokémon giveaways.
The Pokémon promo packs are available across all modern trade and general stores. In addition Kellogg's Chocos has also created 3 x15 second TVCs to create awareness about the promotion which will run across TV networks and Cinemas.
The answer to why Pokémon works extremely well with FMCG companies lies in the brand itself. The show's great story telling style and its universal themes of friendship, teamwork, adventures appeal to children. The shows brand values and its consist performance on Hungama TV as a top kids show since its re-launch in May 2014 makes it a excellent choice for FMCG companies to seek associations with Pokémon. In addition, the stupendous number of  700+ Pokémon, each with their own strengths and weaknesses which the protagonists find in course of the show and team up with on their quest to become Pokémon masters offers FMCG companies with a unique collectability proposition whereby kids have the opportunity to collect their favorite Pokémons and building collections to play with. Dream Theatre is currently in talks with leading FMCG companies for both consumer Products as well as Promotion discussions.
Harpreet Singh Tibb, Director Marketing, Kellogg India said "We are excited to work with brand Pokémon for our summer consumer promotion this year. Chocos is an iconic and exciting brand, and we have always strived to enhance consumer experience and build a lot of fun for kids. This promotion with the popular Pokémon franchise is one such initiative. We are sure kids will love the wide range of gifts from cards to figurines that are on offer, and are looking forward to a stellar promotion"
"Apart from being a fantastic show with a commendable performance track record on TV and on retail shelves, Pokémon stands out among its contemporary shows with its unique collectability proposition. Its vast library of content across TV series and movies also makes it a long term proposition for FMCG brands to associate with it terms of longevity. We are thrilled about our association with Kelloggs and are certain it will be landmark promotion for both brands", says Jiggy George, Founder and CEO of Dream Theatre.
"India is a focus market for us and we are excited to see the brand come alive across TV, Retail and now in the FMCG space with Kellogg's Chocos in India. We have been associated with top FMCG and QSR brands across the world and are excited to see the market engage with Pokémon in multiple formats in India as well, it is proof of the brand coming of age in India in its second coming", says Susumu Fukunaga, Corporate Officer, The Pokémon Company(suggested quote)
Tags: back to school Games Pokémon Pokémon covering apparel puzzles stationery toys