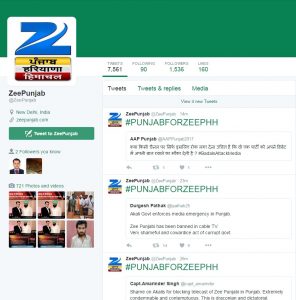 A Ludhiana based cable network -Fastway Cable Company has blocked the signals of Zee Punjabi, a regional channel owned by Zee Media from Thursday onwards.
Sources close to the Channel told Media Newsline that the channel was deliberately blocked for airing stories which exposed the truth.
"Some vested interests -which indirectly control the channel -were fuming after some of the chat shows featured AAP leaders as guests. They emphasised us to invite opposition leaders of their choice which is not possible.We are a news channel and we cannot run stories as per the whims and fancies of a ruling party," a channel source said.
It is worth mentioning here that the cable business in Punjab is controlled by Fastway cable company owned by a Ludhiana based Gurdip Singh who also owns Jujhar Bus service.He is said to be an old family friend of the Badals.
This is second time when Zee Punjabi has been blocked in Punjab.
Punjab Pradesh Congress Committee president Capt Amarinder Singh has condemned the Akali-BJP government's move to block the telecast of Zee Punjabi in Punjab.
"This is an authoritarian and autocratic, dictatorial and draconian move by this government", the former Chief Minister said in a statement from New York today, while remarking, "it only betrays their frustration and fear psychosis".
Capt Amarinder reiterated his commitment that he will finish Badals' monopoly on everything whether the television channels, cable distribution, sand mining, transport or the liquor business.
"By blocking television news channels you cannot block the truth which will emerge in any case", he told the Badals while reminding them that no dictator howsoever powerful and authoritarian he may have behaved has survived the public fury.
"By closing your eyes you cannot escape the doom that is staring at your face", he told Badals, adding no matter how many dictatorial and authoritarian steps they may take, they will not be seen in Punjab beyond 2017.
Capt Amarinder said, the blocking of television news channels like Zee Punjabi, ABP Sanjha, Day and Night and others has only reinforced the public belief that the Bdals' countdown has begun and they are now trying to escape the reality.
He pointed out, the Badals have from time to time regularly blocked even the advertisements to various newspapers in a desperate bid to make these fall in line and have failed repeatedly.
"Old habits die hard", he remarked about Badals, while adding, "but such habits have to die down eventually and these certainly will and I will ensure that".
Tags: Fastway Cable company Zee Punjabi