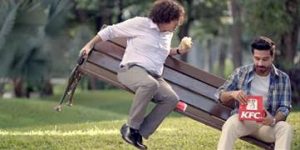 One of the most loaded lunch boxes lands on your TV screen, once again. This time with the promise to be #SabPeBhari.  KFC has launched the TVC for the 5-in-1 Zinger Meal Box – the second avatar of the Box that creates a complete lunch meal using the iconic Zinger Burger.
Commenting on the launch of the TVC, Lluis Ruiz Ribot, CMO, KFC India said, "The new TVC showcases just how filling the 5-in-1 Meal Box can be in comparison to other meals, especially now that consumers can get their favorite KFC Zinger in the Meal Box, making it truly Sab Pe Bhari! The TVC urges consumers to not settle for less in the name of affordability, when they can get a complete meal at a pocket friendly price with the KFC 5-in-1 Meal Box.''
In the TVC its lunch time, and our 5-in-1 Meal Box consumer with his big meal takes a seat on bench with another person eating his small regular lunch. The  5-in-1 Meal Box tips the bench and the second person with his meal easily slides down to the edge. Now both of them are close and the small lunch guy is hungrily staring at the 5-in1 Meal Box.
Tagline:  SabpeBhari
Agency: Ogilvy & Mather
Director: Shujaat Saudagar
Tags: KFC Zinger in the Meal Box Ogilvy & Mather