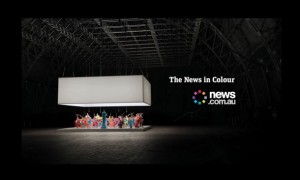 News.com.au's general manager Julian Delany today announced that the leading national online news source is launching a new campaign for the brand.
The biggest consumer marketing campaign ever for news.com.au rolls out from Sunday 31 May across digital, TV, radio, magazines, outdoor and cinema. It was created by Bohemia Group with The Glue Society and Revolver collaborating on the video production.
With news.com.au operating exclusively in the digital space the campaign reinforces what the site does - provides 'The news in colour'. Positioning the brand around 'colour' enables news.com.au to illustrate their breadth of content, pace of delivery and different angles on the news that Australian consumers love.
Julian Delany said: "We have done a lot of work over the last few years to evolve news.com.au and establish our role as a leading news source for Australians. While our branding has always been colourful, we've made a conscious effort in recent years to provide compelling news from all angles and bring colour to what we write. 'The news in colour' positioning helps capture all that we do.
"News.com.au provides an appropriate mix of current and succinct news within a news cycle that continues to accelerate. We don't discriminate on what subjects are considered news. We get in behind news stories and wrap them in a way that makes them more digestible, relatable and engaging for our readers.
"There are times when we need to be serious, humorous or empathetic. There are also moments when we need to react to the news rhythm of the day or allow people to escape the grind of the day. There's no doubt colour has shaped who we are and importantly what our readers expect from us."
Bohemia Group founder and managing partner Brett Dawson said: "We have really enjoyed the opportunity to work alongside Julian and his team developing this campaign. The entire operation oozes colour, and in a competitive and crowded landscape we feel the positioning will really resonate with Australians and provide enduring relevant differentiation.
"The idea is so natural and strong that we managed to secure world class talent to develop it with the likes of Elliot Wheeler, Russell Boyd, The Glue Society and Revolver collaborating on the video production with everything else developed in house at Bohemia."
With strong reach and engagement news.com.au is the country's number one news site read by 3.9 million Australians*. The site is also the number one news site for 18-34 year-olds with 1.2 million readers a month. News.com.au leads in key engagement metrics with 60 page views consumed per person and average time spent on the site of 102 minutes; and has the largest mobile audience of all news sites in Australia with an average of 724,674 unique mobile browsers  a day**, outpacing the mobile market growth over the last year.
Source:
*Nielsen Online Ratings (April, 2015)
**Nielsen Market Intelligence 3 month average (Feb - April, 2015)
Credits:
Bohemia Group
Business Director: Rosie Plunton
Strategy Director: Graham Sweet
Digital Director: Johnny Styles
Business Manager: Jessica Oates Design Executive: Megan Leckey
Director: The Glue Society (James Dive and Luke Crethar)
Production Company: Revolver
Executive Producers: Michael Ritchie and Pip Smart
Producer: Ian Iverson
DOP: Russell Boyd
Music Composition: Elliot Wheeler, Turning Studios
Production Designer: Enzo Iacono
Editor: Luke Crethar for The Glue Society Studios
Post Production: The Editors
Grade: Christine Trodd
Audio Post: Nylon Studios
Tags: Bohemia Group national online news source News.com.au The Glue Society