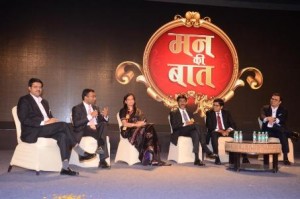 Percept ICE, a company of Percept Limited, managed and executed the Birla Sun Life Insurance (BSLI) Arjun Awards 2015. The award function was held at the Sahara Star hotel in Mumbai on 14 August, 2015.
The Arjun Awards program was a first not only for BSLI but also across the Life Insurance industry. An innovative initiative, the Arjun Awards was designed to extend an opportunity to every employee to contribute towards achieving the vision of Customer Trust Surplus.
Invitees to the BSLI Arjun Awards 2015 Day Conference were welcomed in traditional Maharashtrian style with Dhol, Tutari and Lazim Players. The Conference was hosted by popular anchor A K Rahman. The event kick started with a grand "Shivaji" act by Punit Pathak's dance troupe. It was then followed by the 1st set of Awards. The famous story telling troupe "Illuminati" paid tribute to A.P.J. Abdul Kalam through a classic UV act leading into the 2nd set of awards. The "Mann Ki Baat" segment which was specially designed to interview 8 Leadership Team members was followed by the final round of day awards. The conference wrapped up with an inspirational session by "Deepa Malik"- a Paraplegic Indian athlete who has won numerous accolades for her participation in various Adventure Sports.
The day conference was followed by a gala evening of fun and celebrations. As the overall theme of the event was 'Arjun', all the pre-function activities were designed in accordance with this theme by Percept ICE. The invitees enjoyed the games organized including Fish Eye Dartboard and Archery. A royal throne and an elegant palace set made for a popular photo-op corner.
The Gala Evening function was hosted by the famous TV personality "Ragini Khanna" along with A K Rahman. The ceremonial evening was opened by popular singer Archita Bhattacharya followed by 8 special Grand Finale Awards that were handed out to different teams. The Punit Pathak dance troupe performed another classical rendition. Renowned singer Shadab Faridi was the show stopper of the evening with his diverse variety of Sufi and other popular music as he left the audience mesmerized with his mellifluous performance.
Percept ICE conceptualized and executed the entire event flawlessly, inclusive of logistics and travel arrangements. Commenting on the successful management of the event, Ms. Nazneen Karimi – Chief Executive Officer, Percept ICE said, "I had personally planned and detailed out the entire BSLI Arjun Awards 2015 event given the fact that it was a launch initiative of the Birla Sun Life Insurance Group. The entire event was organized perfectly and every element incorporated ensured that the objective and overarching theme were well coordinated and communicated through the range of activities and entertainment acts performed. The Percept ICE team pulled all the stops to guarantee a successful and memorable show."
Tags: BSLI Arjun Awards 2015 Percept ICE