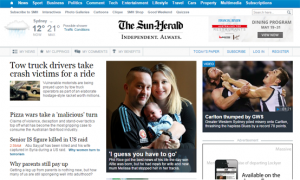 Australians are increasingly consuming financial news and information online, according to the latest data from Nielsen Online Ratings.
During April 2015, the category recorded more than 1.1 million additional unique audience from the same period 12 months earlier, representing a growth of almost 25%. During that time, sites including smh.com.au's business pages (+346,000 unique audience), Forbes (+228,000 unique audience) and news.com.au's business pages (+204,000 unique audience) gained the most audience by volume.
John Price, a Director in Nielsen's Media Industry Group, said that audience growth in the category had outperformed many others and was indicative of consumer interest in the sector:
"With 7% more people engaging with financial news and information content since March 2015, and an additional 25% since April 2014, there is a growing appetite for consumers to be informed about the financial and economic conditions impacting their lives."
Additionally, with AFL season kicking off during April 2015, Telstra Media's AFL sites topped a unique audience of more than two million. Their audience spent an average of 1 hour and 16 minutes per person engaging with the site, while consuming more than 24 minutes of video content.
Within the Current Events & Global News sub-category, news.com.au retained top spot in the rankings, with one of the closest results between 1st and 2nd place in recent history. The site reached more than 21% of the online Australian population, with smh.com.au only marginally behind .
TABLE 1. TOP SITES RANKED BY UNIQUE AUDIENCE FOR NEWS 
| | | | | |
| --- | --- | --- | --- | --- |
| Name | Unique Audience (000) | Page Views Per Person | Sessions Per Person | Time Per Person (hh:mm:ss) |
| news.com.au | 3,906 | 60 | 13.20 | 01:42:37 |
| smh.com.au | 3,889 | 34 | 10.68 | 01:10:23 |
| ABC News Websites | 3,007 | 26 | 8.41 | 00:36:56 |
| ninemsn News Websites | 2,745 | 22 | 9.61 | 00:42:36 |
| Daily Mail Australia | 2,524 | 23 | 7.90 | 01:06:28 |
| The Age | 2,280 | 36 | 9.95 | 01:25:09 |
| The Guardian | 2,079 | 14 | 5.31 | 00:31:42 |
| Yahoo!7 News Websites | 2,012 | 19 | 8.16 | 00:26:16 |
| The Daily Telegraph | 1,994 | 18 | 8.22 | 00:42:59 |
| Herald Sun | 1,911 | 28 | 8.83 | 00:58:07 |
Source: Nielsen Online Ratings, Hybrid data April, 2015
Tags: Australians financial news and information online