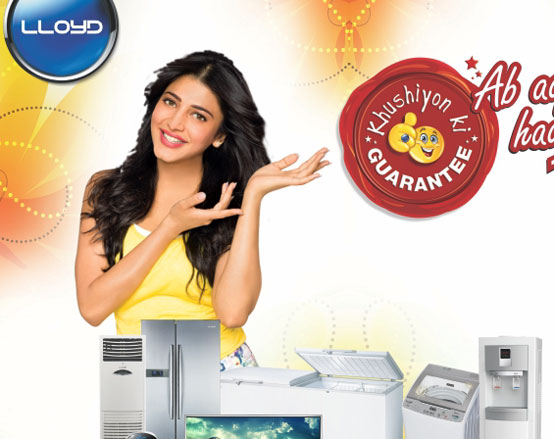 Consumer durable major Lloyd has brought Shruti Hassan on board as its brand ambassador in India. The contract entails Shruti to endorse the products of Lloyd in India through promotion, advertising and marketing, the company said in a statement.
The product portfolio includes state-of-the-art Air Conditioners, LED TVs, Washing Machines, Refrigerators and Small Home Appliances.
"Lloyd has been associated with Bollywood Stars like Karan Johar, Akshay Kumar & now with Shruti Hassan. We believe Shruti Hassan encapsulates all the qualities that Lloyd stands for and will enable our customers to have a better connect with our products," Mr Nipun Singhal, Director, Lloyd Electric & Engineering Limited said.
Mr Atul Seth, Marketing Head, Lloyd Electric said, "At Lloyd, we are currently rejuvenating our brand identity with a renewed focus on innovation and superior technology & we are making earnest and relentless efforts to ensure that every customer gets superior quality product and a super-efficient after-sales service. Shruti is highly aspirational and an ideal fit for our brand. We are confident and excited that with the onset of our multi-media campaign featuring Shruti, there would be a far-reaching impact and greater awareness of our brand."
Shruti added, "It is an honor and privilege to be associated with Lloyd which has state of the art innovative and technologically advanced products which are exceptionally stylish in their design. I believe they provide brand promise of 'Khushiyon ki Guarantee' to each and every customer who buys a Lloyd product. I look forward to an amazing journey with Lloyd."
Tags: Lloyd Shruti Hassan