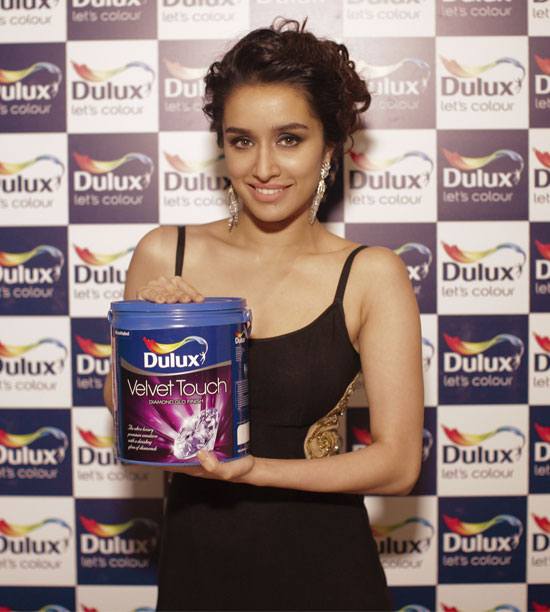 Dulux the flagship Decorative paints brand from AkzoNobel India announced Shraddha Kapoor as its new brand ambassador. She joins Farhan Akhtar as a brand ambassador for Dulux and its range of interior and exterior products.
Shraddha Kapoor, the next gen actor complements the brand's essence of self-expression and style.
Rajiv Rajgopal, Director, Decorative Paints, AkzoNobel India said, "Drawing from our in-depth understanding of consumer needs, Dulux aims to enrich people's lives by bringing visual delight and lasting care to their surroundings by offering  complete painting solutions. Together with Farhan Akhtar, Dulux's new brand ambassador Shraddha Kapoor will be supporting our efforts at increasing the market for this iconic and truly international brand."
"India with a large and young population has a great demographic advantage. The average age of the 1.25 billion - strong Indian population will be 29 years in 2020. Shraddha Kapoor is a perfect fit as the brand ambassador to connect with this set of next gen consumers," he added.
Shraddha Kapoor, Actor, Singer, Designer and Brand Ambassador, Dulux Paints says, "I am excited about my association with a brand as versatile and vibrant as Dulux.  Its philosophy of 'Let's Colour' by way of expressing through their range of products has struck a chord with me. Dulux has baeen constantly evolving and offering consumers more to experiment with while decorating their homes. Home decoration is a significant medium of expressing one's individual style and Dulux helps consumers in finding that style along with great performance."
Dulux Paints offers best in class products in the interior and exterior paints categories meant for upkeep of the house. The emphasis for Dulux, as with all other brands bearing the AkzoNobel imprint, is on quality, aesthetics and the highest levels of performance in terms of longevity, washability & stain resistance, anti-colour fading, water proofing, ease of application, faster drying times and low VOC and odour.
The dynamic product portfolio of Dulux has been bolstered with the recent addition of Dulux Velvet Touch Diamond Glo and Dulux Weathershield Powerflexx catering to the uber luxury needs of the customers.
Tags: Shraddha Kapoor