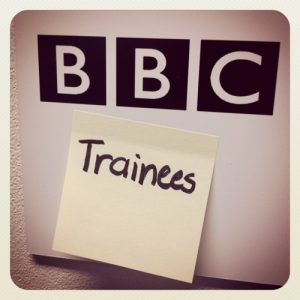 The BBC Academy, Metropolitan College Belfast and Accenture are expanding upon the UK wide BBC Make it Digital Traineeship to take it to Northern Ireland. The course offers a mix of BBC-designed classroom training, and a work placement with a local employer, helping young people work towards gaining an apprenticeship, job or continuing with further education.
Since its launch in March 2015, the BBC Academy has successfully partnered with 26 Training Providers throughout England, Scotland and Wales to bring digital skills and work experience to young, unemployed people. Working with the Department for Work and Pensions, the Skills Funding Agency in England and Scottish and Welsh governments, the BBC Make it Digital Traineeship has already seen success in England, Scotland and Wales helping over 1,300 unemployed 16-24 year-olds achieve their potential.
Recruitment for the traineeship will take place throughout August, with the first course starting on 12 September. Candidates will apply to take part in the scheme via Job Centres and local charity partners.
Jessica Cecil, Controller of BBC Make It Digital, says: "BBC Make it Digital aims to work with partners to inspire a new generation to build their digital skills and reach their potential. We are delighted that young people in Northern Ireland will be taking part in these Make it Digital traineeships which we hope will open new doors for them."
Gavin Mann, global broadcast industry lead at Accenture, says: "We are passionate about getting young people into employment and our involvement with the BBC programme aligns with our own Skills to Succeed initiative, whereby Accenture will equip three million people with the skills to get a job or build a business by 2020. Initiatives like Make it Digital are critical if we are to get younger people excited about the opportunities open to them, and a wonderful opportunity to build new skills in Media and Digital as well as the confidence to pursue their careers."
Glen McMahon, Belfast Metropolitan College Business Development Projects Manager, says: "We are delighted to be partnering with the BBC in their Make it Digital Campaign. This traineeship creates and provides a fantastic opportunity for our young people to learn, get creative, gain confidence and connect with employers within the digital media sector in this fast growing sector."
The traineeship has delivered some fantastic outcomes for young unemployed people all over the country. Sam Wade from Newcastle describes his experience here
To apply for a traineeship in Northern Ireland or for more information on the BBC Make It Digital Traineeship scheme go to: http://www.belfastmet.ac.uk/home/
Tags: Make it Digital traineeships Metropolitan College Belfast and Accenture The BBC Academy