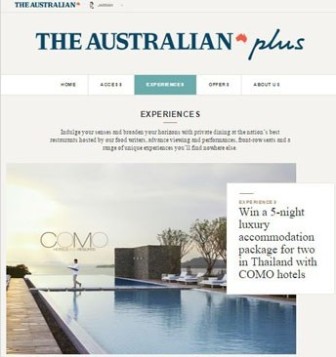 The Australian has announced the launch of The Australian Plus; a suite of benefits, experiences and exclusive offers for digital and bundle subscribers of The Australian and Business Spectator.
The Australian Plus has been created to further enhance subscription with increased access to journalists via 'in-conversation' events with editors, private dining at exclusive restaurants, corporate hospitality at major sporting events, as well as discounted offers and competitions from premium partners.
The Australian chief executive officer Nicholas Gray said: "The Australian Plus was created on the back of research engaging both subscribers and casual readers of The Australian who told us they valued the idea of a program that gets them closer to the quality journalism they subscribe to.
"At launch subscribers will be able to meet weekend editor Michelle Gunn and acclaimed author and columnist Nikki Gemmell, have dinner with top restaurant critic John Lethlean or enjoy complimentary subscriptions to news partners, including The Wall Street Journal and The Times. We look forward to creating even more of these opportunities for our subscribers in the future.
"The Australian's digital subscription base has continued to grow; the most recent December-quarter figure of 65,735 is a 15% gain on the same quarter the previous year. Recent research conducted specifically profiling subscribers also shows they have income levels twice the already impressive levels of The Australian audience giving further weight to the value of this proposition for our partners."
Subscribers can access the rewards via membership portal theaustralianplus.com.au or from the header of The Australian website.
Other rewards that can be accessed in the first month include:
Complimentary subscriptions on leading titles including The Wall Street Journal, The Times and selected News Life Media titles
Discover great investment ideas with member-only offers on the Eureka Report and Barrons Asia
Win a 5-night luxury accommodation package for two in Thailand with COMO Hotels
Enjoy 30% off Harper Collins books: The Assassination of Margaret Thatcher and The Anchoress
Tags: Business Spectator subscriber benefits program The Australian