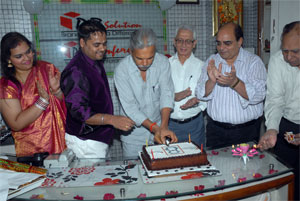 PR Solution India celebrated its 8th Foundation Day on 25th July, 2014. PR Solution embarked into its 8th year, utterly inspired and fresh, filled with fervor and hope. The company which laid down its roots 7 years back, today has emerged as India's leading Public Relations & Event Management firm.
Ram Naresh Yadav , Hon'ble Governor said, "I am pleased to learn that PR Solution India is completing its 7th successful year of operation. I take this occasion to extend my congratulations  to the entire team of PR Solution India for their committed service which enabled the company to earn its significant position it holds today in the corporate world."
Shivraj Singh Chouhan ,  Hon'ble Chief Minister  congratulated the company on its 8th Foundation Day and said, "The profession of public relations and relationship management involves high degree of credibility of service providers and the truth and ethics. It is appreciable that PR Solution  has set professional standards for itself and is sincerely pursuing them." He also wished for success of the company in its future ventures.
The Chief Guest, Surendranath Singh, MLA,  graced the occasion with his eminent presence. Mukesh Sharma, CEO, CRISP and Dr. Ranjan Sharma, AGM, CRISP was also present at the event. The dedicated team members of PR Solution, Faiz Hasan and Shreya Kabir coordinated the event well. Thereafter, the cake cutting ceremony was performed.
Vishnu Khanna,  Chief Advisor,  PR Solution India, congratulated and praised the entire team for their contributions in earning the esteemed position, at which the company sits today. He also wished for the company's perennial growth and success.
S Vijay Kumar, Chief Executive Officer, PR Solution India & Malaysia, says "Each year the company advances to whole new levels. PR Solution has carved a niche for itself not only within the country but also in South Asia too, which is a matter of pride." He also added that over the years the company has grown tremendously and it has to go a long way."
Last year, was a year of many accomplishments and success for the company. With the launch of the country's first online press conference portal and the expansion of its operations to South Asia in Malaysia (Kuala Lumpur) , the company pitched itself to become the leading  Public Relations & Event Management firm.
Understanding the vitality of the growing PR requirements of a company in the current scenario, PR Solution encompasses a wide band of services like Public Relations, Media Coverage, Event Management, Press Conference and several other corporate PR activities, offering worth to its clientele.