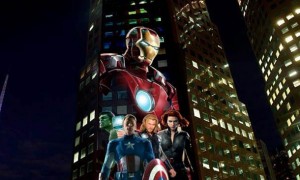 Earth's mightiest heroes will take over Australia's mightiest afternoon newspaper mX next week in a Hulk-sized print, outdoor and social campaign to promote the movie release of Marvel's Avengers: Age of Ultron on Thursday, April 23.
Given the brief "Avengers domination", mX created an eight-week campaign that has been steadily increasing in volume. Events reach a climax this week as The Avengers take over mX from Monday to Thursday with special editions appearing each day.
The campaign's activation includes :
In a first and to create maximum outdoor impact in Melbourne, 15 images from the film will be projected onto The Herald and Weekly Times building at Southbank from 6.30pm each evening this week. The activation is being promoted by the Herald Sun.
Specially-wrapped editions will be handed out at select locations by the mX outdoor team who will be wearing specially designed apparel.
In Thursday's special edition, Hulk, Thor, Iron Man & co will be hosting the paper's most popular newspaper sections.
5000 lucky readers in Sydney, Melbourne and Brisbane will receive a limited-edition Avengers temporary tattoo with their copy of the paper.
mX readers will also have the chance to win a money can't buy trip to West Hollywood for an Avengers adventure for two. To enter, readers are asked to get creative and simply snap themselves with an mX Avengers front page and upload it to Instagram with the hashtag #mXAvengerscomp and tag @mxsnaps.
mX Publisher Tamara Oppen said: "Marvel's Avengers are the perfect match for mX and we were excited when called upon to answer this challenging brief. The campaign that we've created in partnership with Marvel is innovative and leverages the combined fire power of mX'sdigital, print and outdoor channels to great effect. From the visually exciting creative executions to the tattoos, we know this campaign will inspire and excite our audience."
This week's activity is the culmination of eight weeks of steadily increasing volume around the film in mX across non-traditional advertising formats including hot spot ad placements and sponsored "breaking news" stories featuring the Avengers characters.
Tags: Australia's mightiest afternoon newspaper Earth's mightiest heroes Herald Sun Hulk-sized print Marvel's Avengers: Age of Ultron Outdoor social campaign