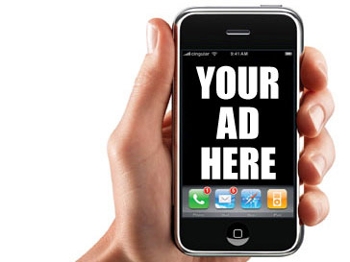 Mobile ad spending continues to increase at the expense of desktop, taking more and more share of marketers' digital ad dollars, according to new figures from eMarketer. In 2015, mobile ad spending in the US will increase 50.0%, reaching $28.72 billion and accounting for 49.0% of all digital ad spending. By 2019, mobile ad spending will rise to $65.87 billion, or 72.2% of total digital ad spend.
Next year will be the tipping point where mobile ad spending surpasses desktop. And while desktop advertising will remain a significant portion of marketers' budgets—approximately $25 billion in each year throughout eMarketer's forecast period—mobile will continue growing in the double digits to gain more and more market share while desktop spending remains flat.
The shift to mobile ad spending is being driven mainly by consumer demand. In 2014, US adults spent an average of 2 hours, 51 minutes with mobile devices each day, up from 2 hours, 19 minutes in 2013. Meanwhile, desktop time fell to 2 hours, 12 minutes daily last year, after being equal with mobile time in 2013.
At the format level, mobile display dollars will continue to increase, outpacing mobile search. In 2015, US mobile display ad spending will reach $14.67 billion, compared with $12.85 billion for mobile search. Through 2019, both display and search will increase at a similar rate, with display widening the gap slightly by virtue of growing from a higher base. By the end of our forecast, mobile display ad spend will total $33.90 billion, while mobile search will be $28.41 billion.
It's important to call out the "other" category as well, which includes classifieds, email and lead generation, among additional formats. US mobile ad spending on those formats will increase from $962 million this year to $3.32 billion in 2019. Meanwhile, mobile messaging ad dollars will rise in 2015 and 2016 before going on a slow decline through the remainder of eMarketer's forecast period.
Our new forecast breaks out mobile app and mobile web spending for the first time. This year, app spending will outpace mobile web browser ad dollars nearly 3-to-1. Advertisers will spend $20.79 billion to reach consumers via mobile apps in 2015, compared with $7.93 billion on mobile browsers.
Advertisers are finding compelling opportunities through video, rich media and native in mobile apps, as well as a better ability to target captive audiences. Next year, when mobile spending will surpass advertising on the desktop for the first time, app ad dollars will continue to gain steam, increasing 42.6% to nearly $30 billion, or 73.2% of all US mobile ad spending.
Mobile web ad spending will also grow at a healthy clip, rising 36.8% in 2016 to $10.84 billion, eMarketer estimates. Spending on the mobile web is being driven by programmatic, cookie-based targeting and bundling across devices.
eMarketer's latest mobile ad spending forecast also includes mobile app install ads for the first time. We estimate that US app install ad spending totaled $1.67 billion in 2014, or 8.7% of all mobile ad spend, and expect this to reach $3.00 billion this year. That figure is an 80.0% year-over-year increase, yet still only accounts for 10.4% of all mobile ad dollars.
Spending on app install ads via mobile search was negligible last year, so the low share of total mobile ad spending doesn't paint the entire picture. App install ads accounted for 17.3% of US mobile display ad spending in 2014, and this is expected to grow to nearly 20% this year. The leading search providers are making strides to attract app developers' ad dollars, but we expect app install ads to represent an insignificant portion of mobile search spending in 2015.
eMarketer bases all of its forecasts on a multipronged approach that focuses on both worldwide and local trends in the economy, technology and population, along with company-, product-, country- and demographic-specific trends, and trends in specific consumer behaviors. We analyze quantitative and qualitative data from a variety of research firms, government agencies, media outlets and company reports, weighting each piece of information based on methodology and soundness.
In addition, every element of each eMarketer forecast fits within the larger matrix of all its forecasts, with the same assumptions and general framework used to project figures in a wide variety of areas. Regular re-evaluation of each forecast means those assumptions and framework are constantly updated to reflect new market developments and other trends.
Source:eMarketer.com
Tags: digital ad spending Mobile ad spending mobile search