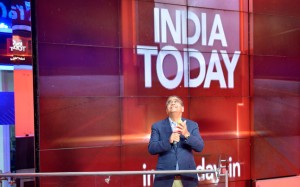 India Today Group ,which publishes country's number one English magazine India Today has launched its 24 hours news channel.
India Today, synonymous for nearly four decades with credible and impactful print journalism in the country, is now on TV. As part of the India Today Group's initiative to imbibe the magazine's ethos, India Today Television was launched on May 23, 2015.
With a top-of-the-line team that includes Rajdeep Sardesai, Karan Thapar and Rahul Kanwal, India Today TV promises a package that includes its tradition of fast and fearless journalism - available so far on news stands and online - now finding another space on television.
That booming voice of his is unmistakable, and was found out correctly by many of his Twitter fans, after a brand new India Today Television's  advertisement with his background voice went viral on the social media on Saturday.
Megastar Amitabh Bachchan tweeted on Sunday that it was his voice that boomed - "You are watching India Today ".
Earlier in the day, Prime Minister Narendra Modi took to Twitter to congratulate India Today Group chairman and Editor-in-Chief Aroon Purie for the remarkable 40 years of the media group's journey. The Prime Minister also conveyed his best wishes for the launch of India Today Television.
Source: India Today
Tags: India Today News Channel India Today Television Karan Thapar print journalism Rahul Kanwal\ Rajdeep Sardesai