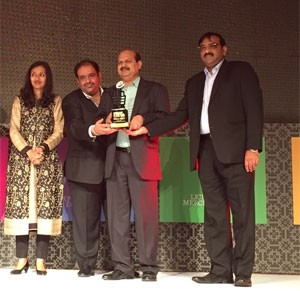 Surpluss.in, the debutant e-commerce brand, has bagged the "Specialty e-Retailer of the Year Award 2015". The award was given during a splendid ceremony held in Hotel Hyatt Regency Gurgaon on the first day of the Indian e-Retail Congress and Awards 2015.
Surpluss.in is India's number one store for Unboxed, Refurbished, Surplus and New Product Deals. Surpluss.in has received this award for – niche proposition, great deals, fast growth, high loyalty among users and excellent user experience  With this award, Surpluss.in has firmly established itself as the most reliable and efficient way to purchase authentic global brands   at the most competitive pricing.
The award was received by Mr Amit Gupta,   Promoter and Director Surpluss.in. He said, "This win is very prestigious for us and it inspires us to continue our unrelenting journey in the space of specialty e-retail and innovation.
"This award is a heartening recognition of our efforts in the realm of specialty e-retail." He added.
Comparatively a younger player in burgeoning ecommerce industry, Surpluss.in, retails handpicked genuine products adhering to brand's international standards and quality parameters. The product range covers   Mobile Phones, Tablets, Laptops, LED TV as also high street fashion labels.
The Indian eRetail Awards recognize excellence in eRetail and multi-channel initiatives by retailers and confer national recognition to awardees as the best digital retail businesses in the country. The category of 'Specialty  eRetailer' sought to identify and facilitate the most creative initiatives in the online retail space, ranging from site design, usability, customer experience, service, need fulfillment or any other area of the eRetail discipline. These special awards are for individuals and companies who have created path breaking trends and who have led unprecedented innovations that have uplifted the morale of the entire eRetail industry.
Tags: eRetailer of the Year 2015 Surpluss.in