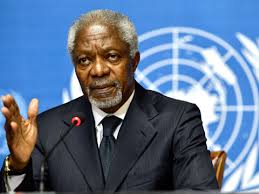 Kofi Annan and former US President Jimmy Carter will be taking part in a special live TV debate for BBC World News, tackling issues that matter to young people around the globe, the broadcaster has announced today.
The debate, to be broadcast live from London on Tuesday, 2 June, will see a panel that includes former President of Ireland Mary Robinson and pioneering lawyer and pro-democracy campaigner Hina Jilani take questions from an audience of young people, all under 25 years old.
All the panellists are members of the group The Elders, which was founded by Nelson Mandela. It is an independent group of global leaders who work together for peace and human rights, and is currently chaired by Mr Annan.
The Elders will openly debate with the audience the issues that matter to young people today. Anticipated topics include the rise of Islamic State, climate change, the crisis in Ukraine, women's rights, economic inequality and migration.
The live programme will be anchored by Matthew Amroliwala, presenter of BBC World News' flagship magazine programme, Global. There will also be ample opportunity for the international news channel's audiences across the world to get involved via the BBC World News Facebook page and using the hashtag #eldersdebate on Twitter.
Looking forward to The Elders' Debate, Matthew says: "It is a great privilege to be able to welcome such an extraordinary panel. I am sure we can expect a lively debate with some unique and thought-provoking contributions from the audience and panellists alike. I am keen to see if the Elders can draw on their vast experience of running countries, resolving crises and mediating conflicts to satisfy the next generation of global leaders. Indeed what does our audience think of the kind of world they have been left and do they think there's anything they can learn from the people who once ran it?".
Tags: Jimmy Carter Kofi Annan The Elders' Debate on BBC