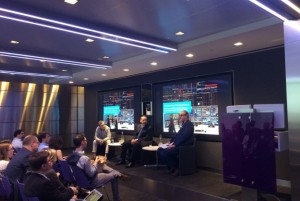 Bloomberg Business recorded its best traffic month ever in April, reaching 20.8 million unique visitors in the U.S. and surpassing WSJ.com for the first time.
In addition, Bloomberg Business video audiences were larger than AOL Money and Finance for the first time with video unique visitors up 206 percent year-over-year.[2] Bloomberg Business, which launched on January 27, 2015, is the centerpiece of the company's consumer media strategy, first announced by Bloomberg Media CEO Justin B. Smith in March 2014.
"Strong traffic and video growth is thrilling to see in the short three months since we introduced Bloomberg Business," said Smith. "Our decision to create a unified home for all of Bloomberg's high-quality editorial content with bold new design is clearly resonating with a broader business audience, and we'll continue this momentum as we introduce new products in the coming months and invest in digital video."
Since its debut in January, there has been sustained traffic and advertiser growth. Visitors to Bloomberg Business have over $100K mean income, the highest amongst its competitive set (including WSJ.com, CNBC.com, CNNMoney.com, Forbes.com, Economist.com, Reuters.com).[3] New advertisers include Apple, Zurich Financial Services, PwC, Cathay Pacific Airways, Volkswagen Group of America, Lacoste, Qualcomm, and UnitedHealth Group, among others.
Bloomberg Business is the company's digital home for its most authoritative, influential, and engaging content, offering all types of storytelling including data visualizations, video, proprietary rankings and more. It combines the DNA of Bloomberg News and Businessweek with the metabolism and design of the modern web. Last month, Bloomberg announced the launch of Bloomberg Business Europe, the company's first regional digital expression that signals the company's commitment to customization of products in important global markets.
Bloomberg is building the leading, next-generation media company for global business by creating a portfolio of digitally-led, multi-platform brands that broaden Bloomberg's core audience. Similar to Bloomberg Politics and Bloomberg View brands – which have their own full teams and a standalone presence on the web – Markets, Technology, and Pursuits channels will eventually launch as full multi-platform brands, with their own distinct look, feel and functionality, communities, social presence, and possible television components.
Video continues to grow:
– In the three months since the Bloomberg Business launch, average monthly unique viewers have more than tripled YOY, topping 8 million. 67 percent of all visitors to Bloomberg Business watch video.
– In the same timeframe, streams have grown 68 percent, surpassing 48 million.
– In April, in addition to surpassing AOL Money and Finance for the first time, Bloomberg's video unique visitors also outranked CNBC.com.
– In April, unique viewers watched more than 16 minutes per visit. This includes the live stream, which Bloomberg Business offers for free.[4]
Tags: 20.8 million unique visitors in the US Bloomberg Business surpassing WSJ.com