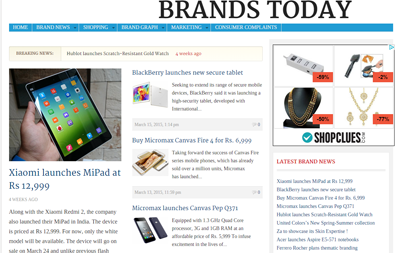 India is the second most populous country on earth, but total media ad spending in the country only amounts to 1.1% of the global total, based on eMarketer's latest forecast of ad spending worldwide. This year, ad spending will rise 8.0% in India to just $6.60 billion. By 2019, advertisers will spend $8.53 billion on paid placements in the country.
Less than $1 billion will go toward digital ads in India this year, even though spending on formats served to internet-connected devices, including PCs as well as mobile devices, is growing by double-digit rates. This year's 27.0% growth will bring digital to 14.2% of total ad spending in India. That's still the third-smallest share worldwide, ahead of only Argentina and Indonesia. But by 2019, when more than a quarter of ad spending in India is digital, the country will have pulled ahead of several others, including France, Spain, Italy and Brazil, by this metric.
More than 60% of that digital spending will be on display ads this year, eMarketer estimates. Display ads are also growing slightly faster than spending on search or "other" ad formats in the country and will maintain their hold on more than 60% of the market throughout the forecast period. In 2016, which will be the first year India's digital ad market passes $1 billion in spending, 35.2% will go to search, while just 3.5% will go to email, mobile messaging and lead generation.
Spending on mobile internet ads will at least double this year and next, with growth slowing as mobile internet ad spend nears $1 billion in 2018. By that year, more than half of digital ad spending will go to mobile.
India's low levels of ad spending contrast with its huge population. Even though internet penetration is somewhat low in the country, digital ad spending on a per-user basis is the lowest of anywhere in the world, estimated at $3.72 this year. It will only reach $5.13 per internet user by 2018. India also comes in last among all countries broken out by eMarketer in terms of mobile internet ad spending per mobile internet user, at 27 cents this year. Mobile internet ad spending per user in India will remain well under $1 throughout our forecast period, keeping the country in last place for the foreseeable future.
eMarketer bases all of its forecasts on a multipronged approach that focuses on both worldwide and local trends in the economy, technology and population, along with company-, product-, country- and demographic-specific trends, and trends in specific consumer behaviors. We analyze quantitative and qualitative data from a variety of research firms, government agencies, media outlets and company reports, weighting each piece of information based on methodology and soundness.
In addition, every element of each eMarketer forecast fits within the larger matrix of all its forecasts, with the same assumptions and general framework used to project figures in a wide variety of areas. Regular re-evaluation of each forecast means those assumptions and framework are constantly updated to reflect new market developments and other trends.
Source:eMarketer.com
Tags: ad spending in India India media ad spending mobile devices