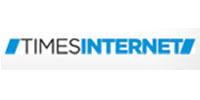 Timesofindia.com has announced the release of version 3.0 of their iPhone and Android app.
The latest apps boast of a sleeker design, enhanced user experience and a host of new features. While the iOS app for iPhone & iPod touch gets an entirely new user friendly design, day/night themes, adjustable font size and the ability to zoom in to photos, the new Android app has a contemporary card layout, an expandable widget with choice of section and refresh rate, an additional color theme and the ability to effortlessly switch between Portrait and Landscape modes.
Speaking on the occasion, Puneet Gupt, Business Head, Times of India digital, says – "We have evolved the apps into an entirely new experience based on feedback from millions of our users. Along with the depth and breadth of Times of India's news coverage, these apps now come packed with a stronger feature set to ensure that staying up-to-date is now an even more pleasant and enriching experience.Version 3.0 apps are our best apps for iOS and Android till date."
Other improvements to the apps include visibly faster response, an entire new line of push notifications, complete Election coverage and better handling of memory and space used by the applications.
Version 3.0 apps can be used on iOS 6 and above for Apple users and Android 2.3 and above for the Android platform.
Tags: Android iOS apps Times of India