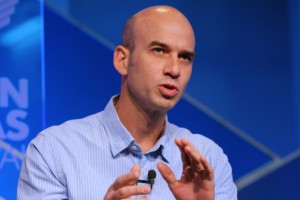 The New York Times recently announced that Andrew Rosenthal, who has served for a decade as editorial page editor, has decided to step down. The announcement was made by publisher Arthur Sulzberger, Jr., who said that Rosenthal's departure will take place in late April.  Sulzberger asked Rosenthal to begin writing online columns, covering a range of subjects, including the presidential election.
James Bennet, who for the past ten years has been editor-in-chief of The Atlantic, is rejoining The Times to succeed Rosenthal.
Rosenthal said, "Since Arthur began the public discussions last fall about succession planning for himself, I also have been thinking about my own plans. I feel very honored to have served in this position for longer than any editorial page editor in the modern history of The Times and during a period of such sweeping change, both in our business and in the world we cover. It's been a great challenge and great fun. I'm looking forward to the opportunity to step back and focus my full attention on writing about subjects I care deeply about. I am very happy that in James, the editorial department will be left in the care of such an accomplished, influential and smart journalist. I am enormously grateful for my long association with The New York Times, an institution for which I will always have tremendous pride and affection."
Sulzberger said, "Andy has done more than just preside over the continued excellence of our opinion pages, he has reinvented them for the digital age. Beyond his exceptional journalistic skills and his ability to provide clear and cogent analysis of the events shaping the world around us, he has been a forceful agent for change inside The Times. Over the past decade, our opinion section led the way in our digital transformation, piloting everything from video, with the stellar and award-winning Op-Docs, to interactive journalism to true global expansion with the addition of dozens of new international opinion writers, amplifying our voice and our reach to regions around the world. Under Andy's leadership, our editorial page has been a persistent and impactful advocate for important policy positions from U.S. relations with Cuba, to transgender issues, to marriage equality, to race and criminal justice, privacy and guns."
Sulzberger continued, "Less well known is the key role that Andy played as a leading advocate for some of the company's biggest recent decisions – from the launch of the digital pay model in 2011 to the recent crafting of our strategy document, "Our Path Forward." Andy truly redefined what it means to be editorial page editor by understanding and undertaking an important role in the leadership of the company. On a personal note, we've known each other for a very long time and I'm deeply grateful to him for the innumerable contributions he has made to this institution. I look forward to those that lie ahead."
Mr. Bennet will join The Times on Monday, May 2, 2016.
Mr. Sulzberger said, "I am delighted that James has agreed to return to The Times where he did so much exceptional work over 15 years. When we lost him to The Atlantic ten years ago, those of us who worked with him knew that he would usher in the resurgence of that great publication. He's done that and more. We also knew, or at least hoped, that someday he would return. James is an extraordinary talent, known as much for his journalistic curiosity and judgment as he is for his originality and spirit of innovation. I am so very pleased to welcome him back to The New York Times and look forward to his many contributions to our future success."
Mr. Bennet said, "It's a tremendous honor to have the chance to succeed Andy Rosenthal, an editor I've known and looked up to since I covered politics for him at The Times 20 years ago. I'm looking forward to joining my new colleagues to continue his work imagining all the new possibilities for intelligent commentary in these times."
Andrew Rosenthal, 60, became editorial page editor in January 2007 after having previously served as deputy editorial page editor since 2003. Previously he served as assistant managing editor for news and foreign editor of The Times and briefly as national editor. As a Washington correspondent, Mr. Rosenthal covered the Bush administration, the 1988 and 1992 presidential elections and the Persian Gulf War. Prior to joining The Times in March 1987, Mr. Rosenthal worked at the Associated Press, where he served as Moscow bureau chief. Born in New Delhi, India, Mr. Rosenthal graduated from the University of Denver with a B.A. degree in American history.
James Bennet, 49, became editor-in-chief of The Atlantic 10 years ago this month, joining the organization from The New York Times. He has also served as co-president of The Atlantic for the past two years.
During his tenure, The Atlantic has dramatically increased its editorial reach and impact, reaching today an average monthly audience of 27 million. Under his leadership, the magazine has published countless high-impact cover stories, essays, investigations, and reports that have sparked widespread attention and influenced the national conversation. Prior to The Atlantic, Mr. Bennet served in various positions at The Times from 1991 until 2006, including White House correspondent, Magazine staff writer and Jerusalem bureau chief. He began his editing career at The Washington Monthly and is a graduate of Yale.
Tags: Bennet served in various positions at The Times