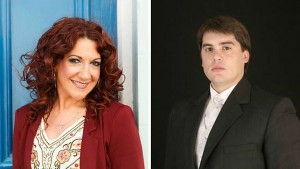 Details of an ambitious world record attempt between Wales and Patagonia have been revealed today.
A live link-up on BBC Radio Cymru for BBC Music Day, 5 June, will aim to bridge more than 7,000 miles and set the greatest distance between people singing a duet, certified by Guinness World Records.
Singer Shân Cothi, who presents a daily programme on weekday mornings on Radio Cymru, will be joined from Argentina by Andres Evans for a unique rendition of the traditional Welsh hymn, Calon Lân. Details of the world-record attempt were announced on Shân's programme Bore Cothi this morning on BBC Radio Cymru as she chatted to Tim Rhys-Evans, the BBC Music Day ambassador for Wales.
Shân will be joined at BBC Hoddinott Hall in Cardiff on 5 June by the BBC National Orchestra of Wales and a massed choir featuring members of various choirs including the BBC National Chorus of Wales, Côr CF1, the Radio Cymru staff choir and the Wales Millennium Centre/Only Kids Aloud Chorus 2015/16. Andres Evans will be joined in Patagonia by members of the Gaiman Music School Choir.
The link-up is one of a number of projects this year marking the 150th anniversary of the establishment of a Welsh settlement, Y Wladfa, in Patagonia in 1865, when 153 people from various parts of Wales sailed on the Mimosa to settle in the Chubut Province in southern Argentina. In the autumn, the BBC National Orchestra of Wales will embark on one of its most ambitious tours to date as part of the 150th anniversary celebrations, visiting Argentina, Chile and Uruguay.
The unique Radio Cymru broadcast, part of Tudur Owen's Friday afternoon show, will also be simulcast live on BBC Radio Wales and BBC Radio 3, and is one of the most ambitious projects, in terms of technology and logistics, ever undertaken by Radio Cymru. The station's record-breaking attempt marks the first ever BBC Music Day, a nationwide celebration of music, aiming to bring people together across generations and communities through their love of music. More details at bbc.co.uk/musicday
Shân Cothi said: "It's fantastic that music can unite Wales and Y Wladfa, and delightful that a song like Calon Lân can join two countries that have such a close connection in terms of history and tradition. From what I understand, it's going to be much more of a challenge than you might think because of the delays involved with getting the sound to and from two opposite parts of the world, but I have my fingers crossed everything will be ok on the day! It's very exciting and it will be a performance and a half, I'm sure. Hopefully we'll be raising the roof - here in Wales and on the other side of the globe too!"
Andres Evans is 33 and has been singing in eisteddfodau in Patagonia for 28 years. He runs a restaurant in Gaiman called 'Gwalia Lân', where his wife Marina does the cooking.
Andres said: "I can't believe it, to be honest - what a great project to be involved in. I hope it all goes to plan, but I'm delighted to be part of it, especially as we're celebrating 150 years of Y Wladfa this year. I love singing in Welsh and this is like a dream!"
Betsan Powys, Editor of BBC Radio Cymru, said: "Music is very much at the heart of our output on Radio Cymru and we were keen to make a bold, ambitious statement for BBC Music Day. Well, what could be bolder than bringing together two singers - over 7,000 miles apart, an orchestra and five choirs, and broadcasting it all live on three radio stations? There are bound to be a few nerves as the day comes closer but everyone's working flat out to make sure it all goes to plan and, with a little bit of luck, we'll have earned our place in the record books by the end of the day."
The duet will be the highlight of BBC Music Day on Radio Cymru. Earlier on, Shân Cothi will also present a special edition of her programme between 10am and midday live in front of an audience at the Glanfa Stage at the Wales Millennium Centre. Joining Shân on the programme will be Hogia'r Wilber - a Patagonian Folk Quartet who are touring Wales, and Welsh classical guitarist Rhisiart Arwel, who performs music from Wales, Spain and Argentina and who will be touring Patagonia later this year.
As well as the record duet, Tudur Owen's show between 2pm and 5pm will also feature additional performances of popular pieces by the BBC National Orchestra of Wales.
Tags: BBC Music Day BBC Radio Cymru greatest distance between people singing a duet Guinness World Records