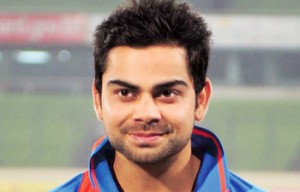 It's been a week of big chases and memorable matches in the IPL, and off the field, players, fans, teams and experts have been sharing their excitement on Twitter.
Last night's thriller between Kolkata Knight Riders and Royal Challengers Bangalore was top of the Twitter Charts for the most talked about match so far followed closely by Kings XI Punjab's mammoth chase versus Chennai Super Kings. Kings XI Punjab are in 3 of the top 4 most talked about matches so far in the IPL season .
By virtue of their steady start and their rabbit-out-of-the-hat win last night, Kolkata Knight Riders have been the most mentioned team on Twitter so far. Chennai are a close second thanks to their champion-like performances in the last two matches.
Virat Kohli is most talked about IPL player, but overnight, Glenn Maxwell's incredible performances in week 1 get him to the #2 position, while Chris Lynn cracks the top 10 list with his out-of-the-world catch against Royal Challengers Bangalore! (See below for full list)
There's been great IPL related content that's been shared #OnlyOnTwitter and some of the most retweeted tweets in the first week have included the selfie of all the IPL captains and legendary Bollywood Star Amitabh Bachchan's tweet about Chris Lynn's outstanding effort last night. (Check below for more)
On the all time Twitter follower charts, Virat Kohli has overtaken MS Dhoni due to a great run on the pitch in recent months and will be the first active international cricketer player to break the 3 million follower # soon! (See below for Top 10 list of most followed IPL players)
On the team Twitter follower front, Chennai Super Kings is tops with ~625,000 followers, 3X greater than last-place Kings XI Punjab. But with Punjab's run of exciting wins in the first week of IPL, can they turn it up further on the pitch and on Twitter? (Catch full list below)
We're just getting started and there's plenty more to come. Here's how you can stay in touch with the IPL on Twitter everyday. Follow @IPL/Track #IPL (or) #PepsiIPL/Subscribe to this IPL Twitter List
Following is a summary of the IPL action that unfolded on Twitter from April 16 to April 24, 2014.
Ranking of Most Mentioned IPL Matches on Twitter (from April 16-24, 2014)
1.April 24: Royal Challengers Bangalore vs Kolkata Knight Riders
2.April 18: Chennai Super Kings vs Kings XI Punjab
3.April 20: Rajasthan Royals vs Kings XI Punjab
4.April 22: Kings XI Punjab vs Sunrisers Hyderabad
5.April 17: Delhi Daredevils vs Royal Challengers Bangalore
6.April 19: Royal Challengers Bangalore vs Mumbai Indians
7.April 16: Mumbai Indians vs Kolkata Knight Riders
8.April 23: Rajasthan Royal vs Chennai Super Kings
9.April 21: Chennai Super Kings vs Delhi Daredevils
10.April 19: Kolkata Knight Riders vs Delhi Daredevils
11.April 18: Sunrisers Hyderabad vs Rajasthan Royals
Ranking of Most Mentioned IPL Teams on Twitter (from April 16-24, 2014)
1. Kolkata Knight Riders
2. Chennai Super Kings
3. Royal Challengers Bangalore
4. Mumbai Indians
5. Kings XI Punjab
6. Sunrisers Hyderabad
7. Delhi Daredevils
8. Rajasthan Royals
Top 10 Most Mentioned IPL Players on Twitter (from April 16-24, 2014)
1. Virat Kohli (@imVkohli)
2. Glenn Maxwell (@Gmaxi_32)
3. Kevin Pietersen (@kp24)
4. Yuvraj Singh (@YUVSTRONG12)
5. Chris Gale (@henrygayle)
6. MS Dhoni (@msdhoni)
7. Chris Lynn (@lynny50)
8. Suresh Raina (@ImRaina)
9. David Miller (@DavidMillerSA12)
10. Parthiv Patel (@parthiv9)
Several of the Most Retweeted Tweets (from April 16-24, 2014)
1.    https://twitter.com/KP24/status/456344997567021056 (2,255 ReTweets)
2.    https://twitter.com/imVkohli/status/456398504454135808 (1,342 ReTweets)
3.    https://twitter.com/SrBachchan/status/459394163281125376 (1,058 ReTweets)
4.    https://twitter.com/imVkohli/status/458552391843848192 (949 ReTweets)
5.    https://twitter.com/IPL/status/456301402801725440 (898 ReTweets)
6.    https://twitter.com/KP24/status/456358314863890435 (810 ReTweets)
7.    https://twitter.com/RCBTweets/status/456389318408302592 (438 ReTweets)
8.    https://twitter.com/rameshsrivats/status/457943631953809408 (392 ReTweets)
9.    https://twitter.com/ESPNcricinfo/status/459395670500474880 (381 ReTweets)
10.    https://twitter.com/henrygayle/status/457516315884793858 (375 ReTweets)
11.    https://twitter.com/IPL/status/456339104494391296 (337 ReTweets)
Tags: IPL player Twitter Virat Kohli