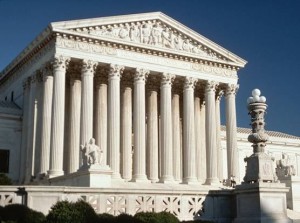 New York and San Francisco: The U.S. Supreme Court decisions on same-sex marriage made for a historic day. But the struggle for the rights of gay men and lesbians to marry is a tense, complex story that has been unfolding over many years—a story told in great sweep and detail by Adam Liptak in The New York Times / Byliner Original To Have and Uphold. The e-book is available for preorder today and will be published July 9, 2013.
Liptak, the Supreme Court correspondent for The New York Times, who has been covering the same-sex marriage debate for years, takes readers into the lawyers' offices and courtrooms, and through the arguments and opinions, where history has been debated and shaped. It is a tale filled with emotional ups and downs as proponents of same-sex marriage in California win a right, lose a ballot proposition, and debate whether to move the issue forward to a Supreme Court fight.
It is also a story with many ironies, perhaps none larger than the coming together of the lawyers David Boies and Ted Olson—who fought each other before the Court in Bush v. Gore—to press for the overturning of Proposition 8. Liptak weaves his narrative together with the kind of deep reporting and analysis that are hallmarks of his work. To Have and Uphold is truly a first draft of history.
Tags: The New York Times U.S. Supreme Court decisions on same-sex marriage