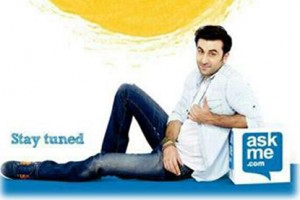 Ranbir Kapoor has been roped in to endorse ASKME, the new-age local discovery app
Ranbir Kapoor is now just a click away as the movie star has decided to ensure that people get all the information they need on-the-go through ASKME.
The actor has been roped in by ASKME to kick off a massive campaign where he will be seen playing a series of quirky characters. Each one of these characters would be seen talking to an audience looking for quick and relevant information on their mobile with the click of a button.
This is one of the biggest campaign that's been put together by a brand for the new age internet users looking for relevant information around local and personalized discoveries on their mobile.
Stay tuned for the ad films and scrollers going LIVE soon.
ASKME is a flagship product of Getit Infomedia, launched in June 2011, is available 24X7 for consumers across all major cities of India. It also helps you find sellers for products and discover best deals in your region. ASKME is a one-stop destination to find information related to anything and everything; whether it is food, travel, matrimony, education, gadgets etc; ASKME caters to the immediate requirement of information available both online and on voice.
Tags: Askme app local discovery app Ranbir Kapoor