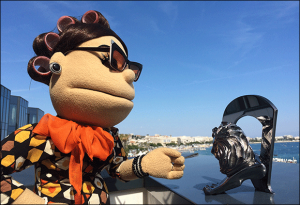 JWT Entertainment in Cairo, part of the J. Walter Thompson Company in the Middle East and Africa, bagged a coveted Titanium award at the Cannes Lions Festival of Creativity, for Abla Fahita, an entertainment brand that has created an entirely new business model in advertising. The award marks the first time any agency in Egypt has ever won a Titanium at Cannes Lions.
Now in its 62nd season, the Cannes Lions awards set a benchmark for creative excellence, honouring the best work and the brightest thinking in the marketing communications industry. A Titanium from Cannes Lions is an award that recognises breakthrough ideas, which are provocative, and point to a new direction in the industry.
The story of Abla Fahita, a witty puppet created for advertising, is one of legend in the MENA region and has evolved the role of the industry in Egypt. Her remarkable transformation from a puppet that advertises brands, all the way to business equity and an entertainment brand in her own right, began with her humorous comments on live Egyptian issues. With her popularity soaring rapidly she rode the wave of online content stardom and released a massive hit single with one of Egypt's leading musicians, Hassan el Shafei. Then came a move away from the small screen, culminating in an official speaking event at the Dubai Lynx Festival of Creativity. But her big break was earlier this year with the launch of her own prime time TV chat show "Live from El Duplex" on Egyptian TV. After just five episodes, "El Duplex" was #1 on CBC's channel ratings. Two episodes later it held the #2 slot nationwide in Egypt, and demonstrates an unprecedented journey from brand character to one of Egypt's biggest entertainment brands.
Commenting on the win, Ramsey Naja, J. Walter Thompson MEA's Chief Creative Officer said, "Words fail me. With Abla Fahita, the guys didn't just turn a problem into an opportunity, they made all those buzzwords such as "new paradigm", "game changer" and "new business model" actually make sense. I think this is what an inspired and motivated team can do when they think positive. That's all it takes to make the jargon ring true. J. Walter Thompson Cairo seem to have made this their trademark: to make us speechless with the power of their ideas."
Chief Strategy Officer for J. Walter Thompson MENA, Amal el Masri said, "As an agency, we are best placed in terms of talent and skill sets to produce insightful entertainment. Abla Fahita is magical – an unlikely star who faced all her challenges with the same poise and charisma - which is probably why she resonates so strongly with her audiences."
Vatche Keverian, CEO of J. Walter Thompson MENA added "Egypt is a cradle of Arab culture and our Cairo team has taken that onto the global stage, winning in Cannes the first Gold Lion for Egypt in 2013 and now the first Titanium, fantastic."
Tags: Abla Fahita J Walter Thompson Company JWT Entertainment in Cairo