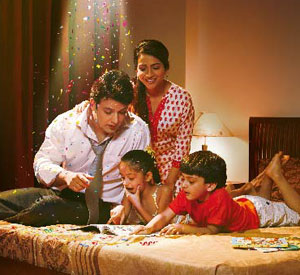 Mumbai 06 June, 2014: Indiabulls Housing Finance Ltd. (IBHFL) India's 3rd largest Housing Finance Company has launched a new advertising campaign which salutes the spirit of the middle class who forms the major segment of their Home Loan customers.
The ever-expanding middle class, often hailed as the growth engine of India, is the most important customer segment for IBHFL. The company believes that one of the most important dream of their lives is to own a home of their own and therefore focuses on offering competitive rates & speedy approvals for small-ticket retail loans on budget properties. The company empowers its customers with an extended tenure of up to 30 years to enable him to manage his EMI, and also offers flexible repayment options.
As a category home loans suffers from a lack of differentiation. Product innovations are easily replicable. Established communication norms have further pushed brands into a space of parity. Most advertisements speak the language of dreams, pride and the independence of home ownership in an emotional tone, while focussing on rate cuts, lower EMIs, quick processing etc. as rational benefits, making all brands seem equal to the consumer.
The mandate to the agency was to break the clutter and connect with the consumer through real life examples. The campaign conceptualised by Grey Mumbai depicts the consumer's emotional journey during the process of seeking and obtaining a home loan approval. Getting a home loan sanctioned is no mean feat. From doubt in one's abilities and potential, to the generated need for self-assessment, to the questioning of self-worth, the middle-class applicant is never at ease. It's ironic that the decision of buying a home, a product of hard work and determination, is greeted by doubt in place of revelry.
This campaign seeks to reverse this contradiction by acknowledging and celebrating the arrival of the persevering middle-class individual and their many sacrifices.
Speaking about the campaign Mr. Gagan Banga, MD & CEO, Indiabulls Housing Finance Ltd. said – "Our clear focus is the middle class consumer & we have tailored our product offering to suit his specific needs. Also our service policy at Indiabulls places him at the centre, offering services like doorstep delivery, 48 hours sanction, Online Account Access etc. – it was only natural to us that our communication reflects this."
Bhavesh Kosambia Sr creative director at Grey Mumbai added: "It was very clear that Indiabulls Housing Finance wanted to broadbase. The spin that we put on it was to make it a brand that appreciated & acknowledged the hard work of the common man. The Tvc takes that very thought a step ahead & applauds his effort.
The stories celebrate the hard work & sacrifice of the common man because to us these people are heroes"
This campaign adds a welcoming stance to the brand's positioning "Ab Ghar aa jao". It endorses the common man's faith in what he does to make his dreams come true.
Credits
Agency: Grey
Tags: advertising campaign Home Loan Indiabulls