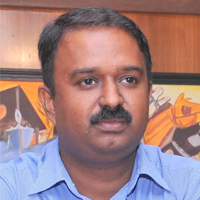 Santosh K Joy, a senior journalist and communication researcher on social and legislative issues who has been associated with several leading publications over the years, has now joined Teamwork Public Relations as its Senior Vice President.
A media veteran, Joy brings several years of experience in the field of communication to the rapidly growing public relations and media advisory agency, and promises to provide a huge boost to its leadership team. He brings a vast insight into the functioning of the Indian media that will provide crucial strategic guidance to the team.
He has served as senior consultant for Teamwork Public Relations for over 3 years, before taking this logical next step.
Following his school education from his native place in Banswara (Rajasthan), Santosh acquired a degree in engineering before turning to a Master's programme in Mass Communication. He moved to Delhi in 2002 after a two-year stint at an English daily in Indore.
In Delhi, he began his career as a senior correspondent for Roazana program of DD News. He later served as Principal Correspondent for India's leading wire agency The Press Trust of India and Sr. Staff Writer for Wall Street Journal – Mint, the business newspaper from the Hindustan Times stable.
A communication researcher on social and legislative issues, Santosh headed the research and program division of the Constitution Club of India (CCI), the body of the Indian Parliamentarians, before joining Teamwork.
"Santosh K Joy has been our friendly guide and mentor over the past three years, helping us define our roadmap for the future and grow as a company and as professionals. We are delighted that he has decided to join the agency and strengthen its leadership with his vast experience and understanding of media and its functioning. Not only does the agency as a whole hope to gain immensely by his knowledge and strategizing capability, but so will individual employees. We welcome him onboard," says Mr Kamal Narayan Omer, Managing Director, Teamwork Public Relations.
At CCI his key responsibilities involved planning campaigns, social networking strategies and press communication for Members of Parliaments and analyzing legislative bills and policy changes for regular briefings on a day to day basis. He also headed the editorial team which published magazines and communication material for Members of Parliament.
He is a Post Graduate in Mass Communication and has cleared the National Eligibility Certificate (NET) for communication teaching in higher education. Along with his mainstream journalism career, he has engaged himself as a volunteer for many social campaigns and helped organisations like Childline, National Council for Protection of Child Rights, Don Bosco Ashalayam among other non-profit organizations and support groups.
Tags: Santosh K Joy Teamwork PR