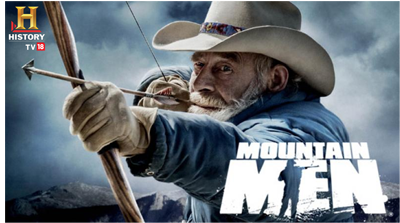 Getting back to nature…going off the grid…searching for a more truthful existence…however you describe it, the "simple life" is not so simple. Mountain Men, premiering on Monday, 8th June at 9PM only on HISTORY TV18, follows three men who have chosen to live in the wilderness as they race against time to obtain the food and supplies they'll need to make it through the brutal winter months ahead.
From the rugged Blue Ridge Mountains of North Carolina to the seven-month-long winters on the Yaak River in Montana to the frigid northern range of Alaska, the country is full of some very unforgiving terrain. Ancient survival skills can mean the difference between life and death in the wild. Meet Eustace Conway, Tom Oar and Marty Meierotto - three men who have devoted their lives to surviving off the grid in the unforgiving wilderness.
For the fearless few who choose to forge a life of their own against the brutal elements of nature in the most punishing terrain, every day brings a constant onslaught of new danger. This nine part series follows the real-life challenges of living off the land, far from civilization, where it takes survival skills and sheer cunning just to stay fed, clothed, and alive.
Tune into this thrilling series Mountain Men starting 8TH June, every Monday-Friday at 9pm, Only on HISTORY TV18
Tags: History TV18 premiers new series Mountain Men