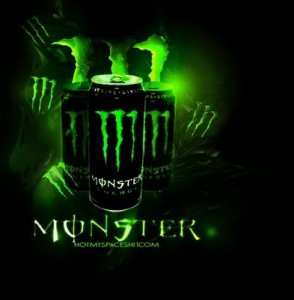 The energy drink market continues to grow even in light of the tough economy and increased health scrutiny.  Soda sales have been declining steadily over the same period, while energy drink sales have been booming.
The energy drinks market in India is still small - barely Rs 700 crore, or five per cent of the total soft drinks market, which is dominated by colas, fruit juices and flavoured milk. Globally, the corresponding figure is eight to nine per cent, according to management consulting firm, Technopak. But with the recent influx, the market could well soon expand, enabling Indian energy drinks consumption to catch up with that of the rest of the world.
Making way into the ever-evolving Indian market, in US # 1 energy drink Monster. Launched by the Narang Danone Group(Blu, Orangina, Lindt, Qua), Monster is now available in the Delhi, Mumbai, Bangalore markets and will soon be entering multiple markets.
As of now the brand has gone all out in making its presence felt within the TG. One cannot miss the striking green Monster logo at shops, local hangouts; stickered on bags, helmets, bikes and autos. That being just the logo promotion, sampling of the product makes up for the larger part of the brands marketing plan.
On a daily basis, Monster samples over 12 cases in Mumbai, Delhi and Bangalore. And those figures are only inclusive of the on ground sampling distribution. Monster has also been providing support to a myriad range of events spread over multiple genres. From small local basketball tournaments hosting a little over 200 people, to national championships like the Nashik Motocross race. Musical events like the Bangalore Open Air, India's only international hardcore metal festival is being supported by the brand as well. The marketing team at Monster has taken a grass root up approach and are out to spread the word about the brand through the influencer network.
Marketing head for Monster Energy  Simran Rajani will be available to elaborate further on the existing and future plans for the brand in the Indian context and how it plans to differentiate itself from the gamut of energy drinks now available.
Tags: cola Energy drink flavoured milk fruit juices India Lindt Monster Narang Danone Group Orangina soft drinks market