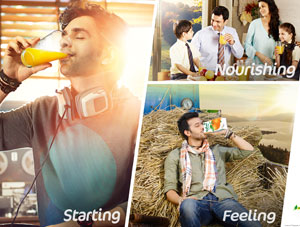 Tropicana, the world's number 1 juice brand, known for its great tasting 100 percent Juices and fruit beverages range has launched a new campaign 'It's Good to be Alive';  a global campaign that will be kick-started in India.
The new campaign celebrates the goodness of being 'Alive' and is supported by a refreshing new TVC emphasizing that when you add Tropicana 100% to your mornings you get off to a great start to your day.
The 'It's Good to be Alive' campaign is about accentuating everyday mornings, motivating people to begin with a healthy start so they can stay energized and make the most of life.
The new TVC shows an RJ kick-starting his day with Tropicana 100% at a radio station and wishing his listeners an enthusiastic 'Good Morning'. It is followed by montages of a young urban family relishing their morning breakfast with Tropicana 100% and a young man savouring the juice on a journey. The TVC ends annunciating how Tropicana, with its 9 fruit nutrients, gives you juice nutrition and energy to feel "alive"!
Anshul Khanna, Category Head Juice & Juice Drink Category, PepsiCo India said, "India is the first country to have launched the new Tropicana campaign. The campaign leverages the new positioning of 'It's Good to be Alive'. Indian consumers are increasingly becoming inclined towards a healthy lifestyle. As the leaders in the 100% juice category in India we wanted to strengthen the brand's promise of healthy mornings and a great start with Tropicana to keep you ALIVE through the day."
Surjo Dutt, VP & ECD, JWT Delhi said, "It's a refreshing new take on Tropicana as an essential part of our everyday morning experience that brings alive our day. With the campaign, we aim to encourage people into kick-starting their day in a healthy way with Tropicana so that they make the most of each day and live every moment."
*As per Euromonitor International Survey Tropicana is the No.1 brand in packaged 100% juice in the world in 2013 in off trade volume.
Campaign details:  
•    Creative Agency:                              JWT
•    National Creative Director:                Surjo Dutt
•    Executive Business Director:                Babita Baruah
•    Executive Planning Director:  Mythili Chandrasekar
•    Director for the film:                       Sunhill Sippy
•    Production House:                            Firecracker
•    Media Planning:                             Mindshare
•    Language:                                      English, Hindi, Tamil, Telugu and Kannada
•    Duration:                                       35 secs
Tags: campaign Euromonitor International Fruit beverages goodness of life juice brand Juices JWT Tropicana