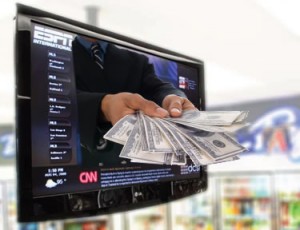 Just like in 2012 and 2013, the region will boast the second-biggest share of digital ad spending worldwide, trailing only North America, at 29.3% vs. 38.8%. Though we expect this trend to continue through our forecast period, Asia-Pacific will actually lose share in the coming years as North America widens the gap.
With investments in online and mobile advertising totaling $18.96 billion this year, China will maintain the largest share of the region's digital ad market, at 46.2%—a trend that will continue through 2018. Japan and Australia will rank second and third, with respective digital ad spending totals of $9.19 billion and $4.52 billion this year, eMarketer estimates.
In Asia-Pacific, Indonesia will be the leading country for digital ad spending growth by a long shot, at a whopping 75.0% this year, compared with 30.0% in second-place India. Though Indonesia will still sit near the bottom when it comes to digital ad spending and share across Asia-Pacific throughout our forecast period, this growth will pay off somewhat, as we expect the country to surpass India in these categories in 2017. On top of that, Indonesia will near South Korea in digital ad dollars by 2018.
Despite its large share of the total digital ad market, China will also see impressive growth of 22.0% in 2014. Australia is the only other country in the region that will maintain double-digit gains this year.
eMarketer bases all of its forecasts on a multipronged approach that focuses on both worldwide and local trends in the economy, technology and population, along with company-, product-, country- and demographic-specific trends, and trends in specific consumer behaviours. We analyze quantitative and qualitative data from a variety of research firms, government agencies, media outlets and company reports, weighting each piece of information based on methodology and soundness.
In addition, every element of each eMarketer forecast fits within the larger matrix of all of its forecasts, with the same assumptions and general framework used to project figures in a wide variety of areas. Regular re-evaluation of each forecast means those assumptions and framework are constantly updated to reflect new market developments and other trends.
Source:eMarketer
Tags: Asia Pacific digital ad market digital ad spending Digital advertising mobile advertising North America online