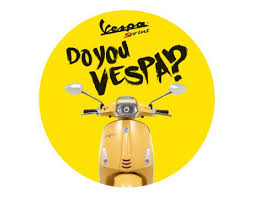 Piaggio India showcases an ideology that celebrates being unique. 'Do You Vespa', the global TV campaign gears up to enter India.
Vespa is an iconic brand, which has a unique history of individualism and freedom.  Vespa is not just a scooter. It's a brand with real attitude- one that looks at the world with fresh, optimistic, playful eyes. The new international TV campaign aims to give a new more modern and relevant brand direction for the iconic Vespa.
Pegged as an extension of a brand's philosophy of being matchless, Do you Vespa touches upon nuances of its legacy. It is the lifestyle associated with Vespa that is just as appealing as the Vespa itself. Therefore focusing on people who ride the iconic Vespa creates something non-riders will aspire to possess, of being people who Vespa.
Inspiration for the campaign is from the people who choose to ride the Vespa - they are people who have conviction and are sure of themselves, they are trend-setters not trend followers. They cut their own path through life, so much so, that you can pick them out of a crowd.
The idea for the campaign was brought alive from a simple observation: when you start to ask questions, you lead a life that most people might find different, some might even say, odd. The film is a glimpse into the life of Vespa riders who have asked these questions and dared to do their own thing, narrated using the grammar of Do You Vespa?
The campaign focuses on picking Vespa riders out from a crowd with the distinctive 'Vespa stencil' that helps them stand out against grey city life. Much like their colourful and iconic Vespa itself. It also helps draw a clear line between people who Vespa and people who don't, by asking simple questions that lead to one thought-provoking question: Do You Vespa?
The opening sequence of Do You Tick Tock shows a young guy  in an inflatable pool on the roof of a skyscraper, taking time out to find his inner peace. Moving further, The Do You Fantasy sequence shows a girl painting bricks wherever the concrete is chipped off, adding an artistic touch to the otherwise dilapidated concrete walls. Furthermore The Do You Against sequence focuses on that one guy who breaks convention to enjoy a beautiful day rather than conform with the rat-race generation that is rushing to work in the morning.
The Do You Me sequence shows a girl who presses her palm against freshly poured concrete, leaving her print on a building marking it forever. The TVC closes with the Do You Heart sequence that shows a man running towards a border post and finally across the barricade at the check-post into the other nation. He embodies the passion to go where his heart takes him which is further amplified with the words on his T-shirt that read: Love Without Borders.
Mr. Ravi Chopra CMD, Piaggio said : This is a global campaign for Vespa.  A brand like Vespa goes beyond just the category it operates in and presents an ideology – a way of life. There would be those who identify with it that end up being Vespa riders. The campaign gives a perspective on the Vespa ideology and aims to attract more fans.
Davide Zanolini global marketing head, Piaggio "Vespa is one of the few products where the word "icon" is not misleading. And "Do You Vespa?" is the new global communication platform to celebrate this. It is the enhancement of the personality of the Vespa riders. People who welcome change but they do it on their own terms. People who don't want to be different, but they know exactly what they want. That's the mark of a Vespa rider. And Vespa is the only scooter in the world with such a strong personality to say it. We are sure our customers will appreciate this approach."
Campaign details:
Agency:  BBH India
Team BBH India:  Russell Barrett, Arvind krishnan, Monideepa Nandi
Director: Lieven Van Balen
Tags: BBH India TV campaig Vespa