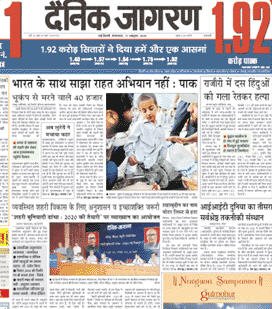 Dainik Jagran was founded in 1942. It was the year when the freedom struggle of India reached its crescendo and found expression in the Quit India movement. Dainik Jagran was launched with the vision of its founder, the late Puran Chand Gupta, to "Create a newspaper that would reflect the free voice of the people." This vision was as much a reflection of the time when it was propounded as it is today - when Dainik Jagran markets control the political destiny of the largest democracy in the world.
The tradition of truth that Puran Chand Gupta heralded was carried forward by literary stalwarts like Narendra Mohan. Apart from strengthening Jagran's editorial stance, he embarked on a drive towards modernising and building interaction between the paper and its readers.
In 1942, the first edition of Dainik Jagran was launched from Jhansi. In 1947, the second edition was launched from Kanpur. In a succession of launches and planned expansions Rewa and Bhopal editions were added in 1953 and 1956 respectively. In 1975 came Gorakhpur; in 1979, Varanasi, Allahabad and Lucknow. 1984 saw the Meerut edition being launched followed by Agra in 1986, Bareilly in1989 and Delhi in 1990. Between 1997 and 2006, Dainik Jagran extended itself by adding eighteen new editions - one each in Dehradun, Jalandhar, Hissar, Patna, Moradabad, Aligarh, Ranchi, Jamshedpur, Dhanbad, Bhagalpur, Panipat, Haldwani, Ludhiana, Muzaffarpur, Jammu, Dharamshala, Indore and Siliguri. During 2007-08 six new editions were launched - Patiala, Bhatinda, Mathura, Rae Bareilly, Ayodhya and Haridwar.
In June 2005, Dainik Jagran entered into a strategic alliance and partnership with Independent News and Media Plc. Shortly after, the company went public in 2006.
Jagran Prakashan Ltd (JPL)is India's leading media and communications group, with its main interests across Newspapers, Outdoor, Internet, Magazines, Below the Line marketing solutions, and Mobile Value Added Services.
In this new, dynamic world of Indian media Dainik Jagran is an iconic brand. More than 55.7 million people reach out for Dainik Jagran making it the largest read daily of India.
Readership of Dainik Jagran has grown by multiples over the years. Today Dainik Jagran has a readership of 55.7 mn as per the Indian Readership Survey, 2008 Round 2. Not only this, Dainik Jagran has been the largest read daily of India for the last consecutive 11 rounds of the Indian Readership Survey. This is a unique record in the history of Indian media.
Dainik Jagran's 37 editions carve a huge swathe across eleven states - Uttar Pradesh, Uttarakhand, Punjab, Haryana, Bihar, Jharkhand, Himachal Pradesh, Madhya Pradesh, Delhi, West Bengal and Jammu & Kashmir. Its footprint reveals truly awesome numbers: 101 million households comprising 500 million people (Source: IRS 2008 R2 and Census). Of these, more than 44% of all 1 million plus cities and 42% of all 100,000 plus towns in India fall within Jagran markets. 50% of India's SEC A and 45% of India's Rs. 10,000+ per month group lives in Jagran footprints. 47% of the India's businessmen/industrialists/ self-employed professionals and 51% of all students in India are from Jagran markets. Its markets account for a huge share of most product categories - almost every second automobile, 37 million television sets, 13 million refrigerators and 12 million 2-wheeler owners fall in Jagran's footprint (Source - IRS 2008 R2).
Rephrased, almost every third Hindi newspaper reader and every ninth any newspaper reader in India reads Dainik Jagran.
Established With such outstanding credentials it is easy to see that Dainik Jagran would have several achievements. In May 2006, Dainik Jagran was voted as the most credible source of news within the print media by a BBC-Reuters study.
The readership and circulation numbers have grown exponentially over the last 6-7 years and Dainik Jagran has marked India's presence on the international media map by becoming the largest read daily in the world.
In a fine show of marketing acumen Dainik Jagran has pulled even further ahead of its nearest competitor. The gap now stands at a resounding 22 million (Source: IRS 2008 R2).
If statistics make a newspaper's world go around then Dainik Jagran has other significant achievements, as well: its readership is greater than all the 25 English dailies reported in IRS put together. Interestingly, apart from being the largest read daily in the country, Dainik Jagran is also the No,1 read daily amongst people who can read English.