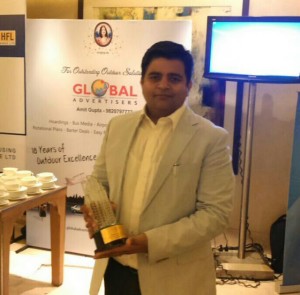 Global Advertisers has been declared the 'Advertising Agency of the Year' by the jury of prestigious The Realty Plus Realty Awards – 2014 on August 21st 2014 in Mumbai. The event, which was attended by all the big names in the realty sector, was held in the Trident Hotel at the Bandra-Kurla Complex in Mumbai.
Global Advertisers, an outdoor media solutions giant based in Mumbai, has built a reputation for its innovative and cost-effective media strategies for some of the leading brands in the real estate sector. Clients serviced by Global in 2014 include Rajesh Lifespaces, Aristo Developers, Hubtown, Dosti Realty Ltd, Lodha Developers Pvt. Ltd., Runwal Homes Pvt. Ltd. Global owns some of the most premium billboard sites in Mumbai, including Asia's biggest hoarding in Bandra.
Sanjeev Gupta, MD, Global Advertisers, said, that his team has a big role in getting him this honor. "Our Real Estate marketing team has worked hard and walked the extra mile to help our clients improve their brand presence, site footfalls and unit sales by offering customized outdoor media solutions that work for them. I dedicate this award to my team and my guru Mamtamai Shri Radhe Guru Maa," said Mr. Gupta.
Tags: Advertising Agency of the Year Global Advertisers