Global Advertise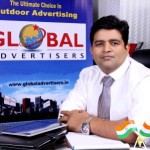 rs, the leader in innovative outdoor media solutions, has been declared as one of the top 100 SMEs of India.
The award, which is in its second edition, attracted 63,819 nominations across the country.Sanjeev Gupta, MD, Global, Advertisers, accepted the award at a function held at ITC Maratha Hotel, Andheri(E),Mumbai on 2nd August 2014.
The high-profile event was attended by Sumitra Mahajan, speaker, Lok Sabha and Kalraj Mishra, the Union Minister of Micro, Small and Medium Enterprises (MSME).
Sanjeev Gupta was understandably happy with the development. ''We have been in business for the last 18 years and have won over 350 awards. I credit my team with their excellent media planning and execution skills and their mastery of disruptive innovation for helping us reach this level. I dedicate this award to the over 1 Lakh satisfied customers who have kept supporting us year after year. Thank you, everyone!" said  Sanjeev Gupta,Managing Director of Global Advertisers
The India SME Forum, a not for profit initiative, nurtures entrepreneurship and supports innovative, globally competitive SMEs in India.
Global Advertisers is an out of home media solutions agency, with the most number of premium big-format hoarding sites in the Mumbai Metropolitan Region, and branch offices across India.
Tags: Global Advertisers