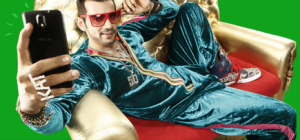 WeChat has launched a funny television campaign in the rural backdrop featuring a buffalo called Katrina by her owner.
"To get the message across we needed to be fun and engaging. We decided to tap into our observations of the 'urban villager' and thus was born the Jaat Guy and his beloved buffalo Katrina," a WeChat spokesperson said.
'The Jaat Guy is one who wants to embrace the world and connect with new people, but he will do it on his own terms, and in his own inimitable style. He is a symbolic embodiment of many young Indians who live and breathe through their smartphones - very proud of their roots and, at the same time, open to all the opportunities that our hyper-connected world has to offer.
Jaat Guy is driven by ingenuity and will give you cool tech advice, but deliver it in his own brand of English - heavy rural accent, quirky grammatical twists. You may find his delivery funny and odd, but you cannot ignore him, nor his message.
Tags: buffalo' Katrina television campaign WeChat