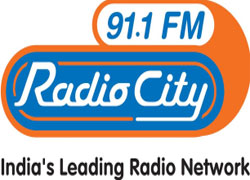 Radio City 91.1FM is India's first FM radio brand. Promoted by Music Broadcast Private Limited (MBPL), the private FM network has captured the hearts of millions of listeners across 20 FM stations in Mumbai, Delhi, Bangalore, Chennai, Ahmedabad, Pune, Hyderabad, Lucknow, Jaipur, Vadodara, Surat, Sholapur, Nagpur, Sangli, Coimbatore, Vizag, Ahmednagar, Akola, Nanded and Jalgaon.
Taking the lead to offer a distinctive listening experience, Radio City 91.1FM's differentiated music offers listeners melodious Adult Contemporary (AC) music along with a vibrant outlook, 'Whatte Fun'. It now brings a unique and uniform brand experience, in line with the vision of creating a national brand. From a broad base, Radio City has fine-tuned the core-target audience through focused segmentation to SEC AB. Radio City offers listeners a bouquet of exciting, path breaking programmes for the first time on Indian radio uniquely positioning it to deliver an unmatched radio experience.
Backed by an expert talent pool across functions, Radio City is characterized by exciting shows that give it unmatched popular appeal. A history of innovative programming, friendly radio jockeys and fresh music uniquely position Radio City to cater to the mass premium audience across India's most important cities.
Radio City's range of innovative and popular shows cut across audiences. The medley of songs, contests, talk shows, events, humour and gossip delivered by a hugely popular team of radio jockeys have revived and revolutionised radio-listening habits across all our markets. The programming at Radio City is strategically planned to uplift the mood of its listeners. Our programming is backed by extensive research and we deliver content that is tinged with the local flavour. We have always catered to our audience's demands. Radio City has its content tailored to fit the wants and needs of the local audiences and speaks the language of the people. This combined with its music expertise and creativity provides for compelling content.
Since its inception, Radio City has used every opportunity to innovate with the category and build stronger involvement and listenership. Playing truly popular music, in the language of the people, Radio City programming has also had the distinction of successfully pioneering many path breaking programmes on radio like Musical-e-Azam, RC Live, Remix Raja, Life Ki Dhun with Sonu Niigaam, the simulcast of Sonys Indian Idol 2, Shaam-e-Ghazal with Roop Kumar Rathod and Maan Na Maan Superstar Tera Mehmaan. Radio City has given radio a new dimension with the concept of 'Celebrity RJ' starting with Life Ki Dhun with Sonu Nigaam. Hottest chart busters, humorous Babbar Sher, rip-roaring mimicry, gripping fiction, interactive game shows, professional counselling, children's programming and the best of Bollywood celebrity interviews, you hear it first and better only on Radio City!
Radio City with its 20 stations reaches out to the SEC AB audience which largely comprises the advertiser's consuming class. As solution providers to advertisers, Radio City invests in understanding the advertiser's imperatives and product propositions. The idea is to design a highly customized offering to optimally convey the USP of the advertiser's product offering to the FM brand's discerning listeners while presenting to them choicest infotainment.
Radio City broadcasts round-the-clock using state of the art digital stereo FM for unmatched quality in signal strength, clarity and brilliance. Radio City has always been abreast with the latest in technology. Radio City has world class studio facilities across markets. From state of the art equipment in studios to skilled technical expertise, we constantly look at upgrading our facilities which is why we have an MPLS network which allows better networking and data access across our stations. Additionally, Radio City has also implemented SAP to optimize national operations.
A sustained focus on understanding listeners and leveraging the synergies of music expertise and innovative programming, allows Radio City to deliver a unique listening experience and be an integral part of the lives of listeners. Aggressively looking at spreading the Radio City experience across the country, Radio City 91.1FM is committed to growing the market and creating superlative content quality audiences nationwide.