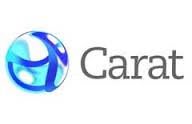 Aegis Media India will be launching Carat Fresh Rural on December 17th. This will be India's first professionally run, international Rural Communications Agency. Carat Fresh Rural, the rural division of Carat Fresh Integrated, will provide comprehensive rural marketing and communication solutions to clients, which include rural planning, implementing outreach campaigns in rural areas, Route planning, monitoring, Van operations, Haat & Mandi contact programs, Wall paintings, Melas and any other marketing communication activities that may be required in small towns and villages.
Carat Fresh Rural has already bagged assignments from clients like Mahindra & Mahindra, Godrej Consumer Products, Escorts, Godrej, GPI, SONY MAX, Pidilite, Force Motors, Bayer Crop Science, and others.  Building on a soft launch a few months ago, Carat Fresh Rural will be starting with a team of 30 rural marketers and a network of 1500 operators, across 7 offices and 20 operation bases, led by the famous rural expert, Keshav Chandorkar. Keshav will report to Carat Fresh Integrated Head, Ravi Shankar. They have, pre-launch, already carried out activities in over 18000 villages across 21 states.
"Rural Marketing Communications is the holy grail that no agency has successfully cracked in India, thus far.  I believe that there is a universe at least equal to the size of the entire advertising industry available to agencies to explore in the rural marketing communications field. Carat Fresh Rural will, in many ways, pioneer that.  We are developing, for the first time in India, state-of-the-art rural management tools.  The Carat Fresh suite of Rural Tools will have the country's only real time Rural Planning Tool, enabled by 3G connectivity and linked to a host of data sources including the rich census data, media data and 16 other sources of data. Since implementation in rural is key, every one of the Carat Fresh Rural operators will have an App on their GPS enabled trackers that will automatically monitor and relay data without human intervention. Several Tools and Apps are being developed to revolutionize rural communications in India" said, Ashish Bhasin, Chairman India & CEO South East Asia.
With growth slowing down in urban markets, it is expected that small towns and rural areas will become increasingly important to advertisers. Good agricultural output, following a good monsoon, will further accentuate this trend. Nearly 750 million Indians live in rural India are expected to add additional consumption not only in the FMCG category but also in categories like Automobiles, Telecom, Entertainment, Consumer Durables and others.
Carat Fresh Rural aims to have a network of 10,000 people and 100 rural experts, across  26 states, by mid-2015. By 2015 Carat Fresh Rural expects to have covered over 100,000 villages throughout India.  In the second phase of expansion, which will span from 2016 t0 2018, it is anticipated that the network will grow to 20000 people, employees to 200+ and over 200,000 villages would have been covered.
The Aegis Media India group comprises Carat fresh Integrated (Experiential),  Carat, the world's largest independent media communications specialist, Vizeum, Posterscope, the global OOH sector leader, Brandscope,  Hyperspace (Retail), PSI (Airports), Doosra (Creative), Isobar, the global communications agency with digital at its heart and  iProspectCommunicate 2, the global leader in search and performance marketing.
Tags: Aegis Media India Carat Fresh Rural international Rural Communications Agency