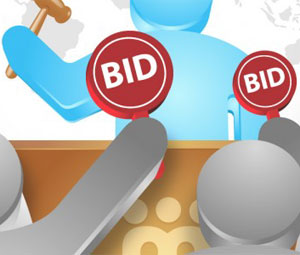 Real-time bidding spending has retistered faster-than-expected growth, says an eMarketer report. eMarketer's last forecast of real-time bidding spending, made in November 2012, was increased slightly for 2013 because of faster-than-expected growth in the area. We also expect slightly faster growth throughout the forecast period because RTB is becoming more mainstream, and mobile RTB in particular is still nascent but will drive future growth.
The major factors behind growth in real-time bidding spending are operational efficiency and better targeting. For publishers, RTB is also an attractive way of selling unused inventory—and increasing demand for RTB ads will drive prices up, contributing to growth in spending. On the marketer side, there is better control over prices paid and better return on investment (ROI) due to targeting capabilities.
At the same time, programmatic buying is a complex activity, which can hinder growth, especially given the lack of human-to-human interaction. Publishers may fear cannibalization, while marketers also have concerns about quality and transparency of placements and results.
Programmatic buying continues to gain traction in the US online ad market, and eMarketer's latest forecast projects growth this year of 73% on spending on digital display ads purchased through real-time bidding (RTB).
eMarketer estimates US advertisers will spend more than $3.36 billion on real-time bidding this year, up from just under $2 billion in 2012 and less than $1 billion in 2011. Growth rates will continue to decline as the market matures, but eMarketer expects double-digit increases in spending each year through 2017, when real-time bidding will account for more than $8.49 billion in digital ad spending—or 29% of all digital display spending.
Spending on all digital display advertising, including banner, video, rich media and sponsorships, will grow far slower—at 18.1%—as penetration and use of RTB among media buyers and publishers increases.
eMarketer bases its estimates of real-time bidding spending on the analysis of estimates from other research firms; survey results from brands, agencies and media publishers; digital and mobile ad spending trends, and eMarketer interviews with executives at ad agencies, brands, media publishers and other industry leaders.
Source: eMarketer
Image Copyright also acknowledged
Tags: better targeting faster-than-expected growth mobile RTB operational efficiency Real-time bidding spending RTB is becoming more mainstream