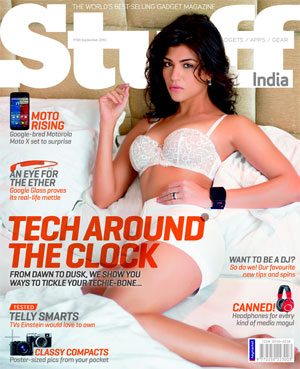 New Delhi: Stuff India, the country's ultimate guide to gadgets and technology has the vivacious and stunning model,VJ & TV presenter Archana Vijaya gracing the cover of its September 2013 issue.
Archana Vijaya has been featured in the cover story which takes a deep dive into every aspect of your life that is dependent on technology, from the moment you wake up to the time you retire for the day. Archana graces this story by showing the readers all the different gadgets they can use during the course of the day to make their lives easier with the help of technology.
Speaking on the core contents of this issue, Editor, Nishant Padhiar, says, "The September 2013 issue of Stuff is full of exclusives and never-seen-before gadgets. We have a wristwatch with a 41MP cam built into it, the final production version of the BMW i8 all-electric car, Sony's giant new Xperia Z Ultra and also great tips on becoming a DJ, pursuing a photography career with just your smartphone and much more!"
Archana has an attitude that fits the Stuff profile perfectly. She's adventurous with her life and her gadgets as well; she is an Apple fan and doesn't mind getting her hands dirty with technology. All these attributes along with her spunky personality made her the perfect choice for this issue of Stuff.
The issue will hit stands on Tuesday, 27th August 2013.
Tags: Archana Vijaya Stuff India Magazine cover stunning model TV presenter VJ