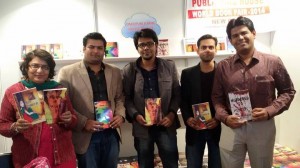 First Step Publishing – Paving Ways For New Writers, today launched the four awaiting titles in World Book Fair 2014 at Pragiti Maidan.
With these four books, First Step Publishing has acknowledged 29 authors from various fields across the country, many of them are also the first time authors.
These four books includes – Meet The Strings by Chetan Jaiman, Murdered To Moksha by Rohit Shetty and Ketki Borgaonkar, Chak de !! Tendlya by Aniket Chavan and Minds@Work 2 – An anthrology of poems by 25 contributing authors.
Speaking over this occasion – Rohit Shetty – Founder and C.E.O of First Step Publishing said, "I am very proud to have these books under the umbrella of First Step. We firmly believe in the core proposition of the company – "Paving Ways For New Writers.. These four books include the oeuvre of many first time authors and also some of the acknowledged ones. I think "World Book Fair. is a perfect platform for these new talents to get exposure and amaze people with their pen."
Meet The Strings by Chetan Jaiman, is a collection of nine unique short stories each representing different emotion. In most of his stories the protagonist is a woman and every story narrates various aspects of humanity, emotions, life and people around us.
Chetan Jaiman, Acadamically, B.Tech in Bio-Medical Engineering and Masters in Advertising while specialized in Public Relations. Chetan Jaiman is basically from Alwar Rajasthan and is currently working in a PR Agency in Delhi.
Tags: First Step Publishing World Book Fair 2014