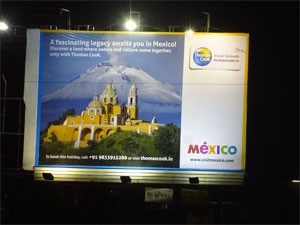 Mumbai outdoor media giant Global Advertisers has launched a massive campaign for Thomas Cook's innovative push for Mexico Tourism. The campaign, which focuses on the country's Spanish heritage as well as its Incan roots, aims to attract Indian tourists who are making international trips in rising numbers year after year.
The campaign, which includes Delhi, focuses on Marine Drive, Bandra, Dadar, Mahim, Kandivali, Andheri, Juhu, Sion, and Vile Parle in the Mumbai campaign, which is scheduled from 8th of December to 22nd of December.
With the Thomas and Cook campaign, Global Advertisers adds yet another prestigious brand to its fast expanding kitty. Global is the largest owner of premium hoarding sites in the Mumbai Metropolitan Region with associates and partners across India.
Sanjeev Gupta, MD, Global Advertisers, said the initial reports have been very encouraging. "Indians are familiar with Mexican food, music, dance and culture. A rising number of Indians speak Spanish. We choose some of the best sites in Mumbai for the campaign. These are neighborhoods that have substantial populations of international travelers who like to explore the world. The team did a great job with the site selection, the planing and the execution. The buzz is fantastic. I thank the client and my entire team for pulling this off," said Mr. Gupta.
Tags: Global Advertisers Mexico Tourism