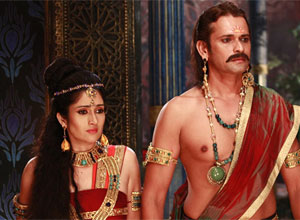 Enticing the audiences with a refreshing concept, the new TV show 'Buddha' on Zee TV  has brought the legend of Prince Siddhartha, straight from history books to life.
People are loving it. Saturated with the never-ending tales of saas-bahu sagas, the audience has embraced the show based on the life of the legend which inspired and led King Asoka on the road to peace.
Only three episodes old, the public has clearly greeted the show which has a TVT (Television viewership in thousands) of 1450 (round about 1.5 million). The Twitter & Facebook pages are filled with praises about the show, the costumes and how viewers look forward to watching the show on every Sunday. The fact that the show is in infant stage and has already got such a good feedback, shows the interest and curiosity factor among the viewers.
The show is an epic tale of the prince Siddhartha, who was born with a golden spoon, discovers the harsh realities of life and finds his way to enlightenment. Such was his glory that people across the world adopted his way of being. The show 'Buddha' aims to retell the story of the one man who renounced a life of luxury searching for the answers to the sorrows of life.
,
Tags: Buddha Zee TV