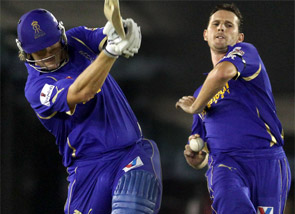 One of India's largest online travel agencies, Yatra.com today announced that it is partnering with the Indian Premier League team Rajasthan Royals as Official Travel Partner.
The Pepsi Indian Premier League is the most watched sporting event globally, with fans following their teams to match-venues across the country. Through this association, Yatra.com aims at reaching out to millions of IPL fans by leveraging the cricket fever in the country.
Commenting on the association,Dhruv Shringi, CEO, Yatra.com said, "We are delighted to partner with Rajasthan Royals and ride the IPL wave this season. Yatra is about creating 'happy travelers' and offering complete commitment and dedication to customers and partners. This partnership is a great fit as the Rajasthan Royals brand ethos resonates closely with our own."
The name 'Rajasthan Royals' is inspired by the former princely states of Rajasthan and Gujarat. It was born from the commitment to entertain cricket fans and unearth new talent across the globe, with a sharp focus on India. As a brand it stands for resilience, commitment, intensity and never say die attitude. With roots in the culturally rich state of Rajasthan, the Rajasthan Royals are impassioned by indomitable qualities of strength, courage and fighting prowess, which personifies the brand.
Commenting on the partnership, Raghu Iyer, CEO - Rajasthan Royals said, "Rajasthan Royals is pleased to partner with a leading online travel company like Yatra.com, as the team's official travel partner. We trust that this will mark the beginning of a long and fruitful journey for both organizations in the time to come."
Tags: Indian Premier League Pepsi Indian Premier League Rajasthan Royals Yatra.com