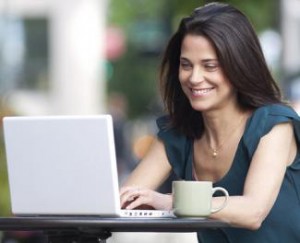 As internet video takes off, the number of advertisers clamoring to invest in the format will continue to rise. A strong understanding of the performance metrics and audience breakdown for digital video ads will be critical to marketers.
In Q1 2013, in-stream video buying platform VideoHub analyzed digital video impressions on its network and found some surprising results. While web video is most often watched by men, VideoHub found that 53% of total digital video ad impressions were served to women, with males seeing the remaining 47%. Younger web users conducted the vast majority of video viewing, indicating that marketers targeting teens and millennials would be well served by video ads. Those between 12 and 24 years old accounted for more than half of all viewed video ad impressions on VideoHub's network.
Digital video is surging. According to Cisco Systems, US internet video traffic in 2012 averaged 4.6 exabytes per month, and by 2017, that figure will more than triple to 17.1 exabytes per month.
As for performance based on the length of a video ad, there was considerable variation and lack of a clear trend line. Completion rates were lowest for video ads that lasted between 30 to 60 seconds (77%), but ads that ran for 30 seconds or less saw an 84% completion rate, the second-highest of any video ad length measured, indicating that short ads do not necessarily equal low completion rates. The absolute highest completion rate went to ads that were between 30 and 60 minutes.
Most likely, very few ads actually are as long as 30 minutes, or even 5 minutes, which may mean that viewers who sign on for such video ads are particularly receptive to them. But the other takeaway is that how compelling the ad is may be more important than how long it is.
Performance metrics based on the size of US video ads saw a clearer trajectory than ad length. The larger the video ad, the higher the completion rate, with a 93.0% completion rate for extra-large video ads vs. a 66.0% completion for extra-small video ads. Clickthrough rates (CTR) also seemed to rise with video ad sizes. However, once ads were medium-sized or bigger, CTRs went up to at least 0.9% and continued to hover in that range.
Ads in the medium to large range were also the most common video ads, accounting for 77.4% of served impressions, indicating that marketers know these sizes are strongest.
Source: eMarketer
Photo: Jerry Bunkers via Flicker
Tags: audience breakdown digital video ads internet video performance metrics