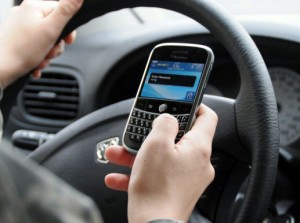 Smartphones have managed to creep into pretty much every aspect of modern life—including driving. A Q3 2012 study from Forrester found that three-quarters of smartphone internet users went online via their phone while in the car, reports eMarketer.
What are these smartphones tappers doing while driving?
A June 2012 survey of US internet users by McKinsey & Company found that almost nine out of 10 of those using a smartphone while driving said they made or answered calls. About seven out of 10 used their phones for navigation, a finding that underscored the threat posed by smartphones to dedicated GPS navigators. Four in 10 texted with (let's hope) one hand on the wheel, and three in 10 were either on the internet, using apps, or checking email or social networks.
The importance of accessing data in a car varied significantly among different age groups. In fact, there was a strong divide between respondents ages 18 to 39, 55% of whom thought having data access in a car was important, compared with 29% of those ages 40 to 69.
But interestingly, the generation gap was less stark when it came to paying for supplementary services that provide in-car data access. While 83% of those ages 18 to 39 were willing to fork over some cash for connectivity, 73% of those ages 40 to 69 were willing to do the same.
Although the study did not ask respondents if they already used various car-compatible digital interfaces, the breadth of smartphone usage—and the rising chorus of data pointing to phone distraction as an on-the–road threat—suggests that these services have plenty of broad applicability to drivers.
Drivers are likely placing a high value on data access in order to ensure that they can get directions to their destination. High numbers of people are now using smartphones for navigation, and for these drivers a smartphone without data is no better than an expensive paperweight.
Source:eMarketer
Tags: driving Forrester internet users McKinsey & Company modern lif Q3 2012 study smartphone US internet users