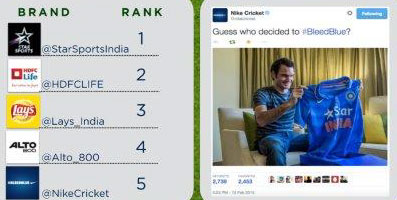 Twitter India on Friday released the Brand Index of the group stages roundup.
@StarSportsIndia's #MaukaMauka campaign has consistently kicked build up to India game days with a video for the upcoming game as well as a follow up revealed almost immediately after the game. Star Sports asked users to Tweet to them with the hashtag #MaukaMauka to reveal the ad on Twitter before it got revealed on TV, which was great for engagement since this really got viewers involved. They also continued to provide commentary on the games which ensured that people kept engaging with them through the weeks.
@HDFCLIFE continued to engage users around their hashtag #MyTeamMyPride. They asked people to predict outcomes, scores and other details of the game to win prizes up for grabs. The hashtag has found a way of rallying fans as well as giving a boost to their campaign.
Lays climbed the charts by exciting the cricket fan on Twitter with the hashtags - #LaysKePlays and #TicketKaGame. Both represent a contest and the winners of each were given the opportunity to watch the finals of the #CWC15 in Australia. They also asked people to Tweet with the hasthtag #TicketKaGame to reveal what the contest was going to be. The more the Tweets,  the quicker the reveal. #LaysKePlays asked users to Reply to the handle with creative uses of cricket lingo and make it relevant to Lays.
@Alto_800 also used the contest route. Trying to build equity as a potential first car for its target audience they ran smart contests around hashtags like #DebutTips and #AltoFirstTimer. Both were aimed at getting people to engage with them to get tips for first time buyers as well as connect with potential clients. There were prizes up for grabs and that continued to create impact among users.
@NikeCricket : Nike continues to rally the Indian supporter around the #BleedBlue Chant as the tournament enters the knock outs. This week they shared more #BleedBlue stories and asked people to share theirs. This has been one of the unifying hashtags this world cup and Nike continues to bring the Indian Fan together under the #BleedBlue Umbrella.
Tags: Alto800 Brand Index HDFCLIFE Lay's NikeCricket StarSportsIndia target audience Twitter Twitter India